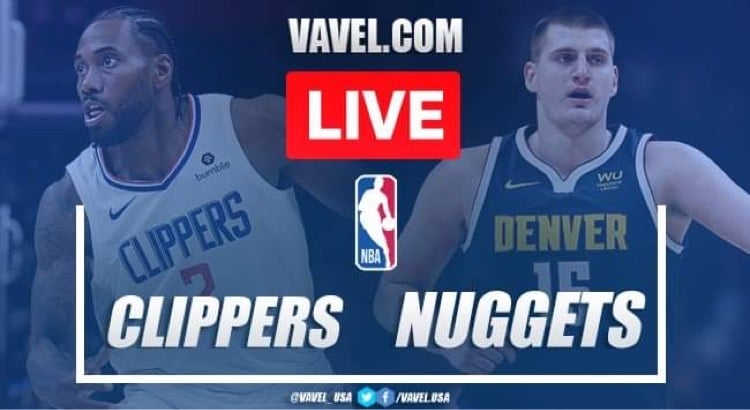 Highlights
Nuggets Force Game 7
Q4 Ends
Q4 - 1:35
Q4 - 1:52
Q4 - 2:00
Q4 - 2:27
Q4 - 3:05
Q4 - 3:48
Q4 - 4:10
Q4 - 4:47
Q4 - 5:12
Q4 - 5:18
Q4 - 6:59
Q4 - 7:56
Q4 - 8:14
Q4 - 8:53
Q4 - 9:09
Q4 - 10:16
Q4 - 10:40
Q4 - 11:00
Q4 - 11:21
Q4 - 12:00
Q3 Ends
Q3 - 1:25
Q3 - 1:49
Q3 - 2:20
Q3 - 3:29
Q3 - 4:47
Q3 - 5:16
Q3 - 8:18
Q3 - 8:56
Q3 - 9:11
Q3 - 9:34
Q3 - 10:10
Q3 - 11:16
Q3 - 12:00
Q2 Ends
Q2 - 0:13
Q2 - 1:06
Q2 - 1:21
Q2 - 1:48
Q2 - 2:28
Q2 - 3:51
Q2 - 4:46
Q2 - 5:52
Q2 - 6:32
Q2 - 7:42
Q2 - 8:39
Q2 - 9:05
Q2 - 9:18
Q2 - 10:15
Q2 - 10:35
Q2 - 10:56
Q2 - 11:07
Q2 - 11:25
Q2 - 12:00
Q1 Ends
Q1 - 0:02
Q1 - 0:20
Q1 - 0:34
Q1 - 0:53
Q1 - 1:53
Q1 - 2:07
Q1 - 2:21
Q1 - 2:29
Q1 - 2:49
Q1 - 3:45
Q1 - 4:05
Q1 - 4:57
Q1 - 5:38
Q1 - 6:24
Q1 - 7:01
Q1 - 7:44
Q1 - 8:11
Q1 - 8:50
Q1 - 9:23
Q1 - 9:36
Q1 - 10:15
Q1 - 10:56
Q1 - 12:00
Ready to go!
Clippers 5
Nuggets 5
Getting shots up!
Our live coverage begins!
'Joker' doing work at Orlando!
Coach Malone Believes!
The Clippers are trying to clinch their franchise's first conference finals appearance
Letting leads slip away!
Nuggets survived elimination
RECAP: Game 5
How to watch Clippers vs Nuggets Live TV and Stream
Welcome!