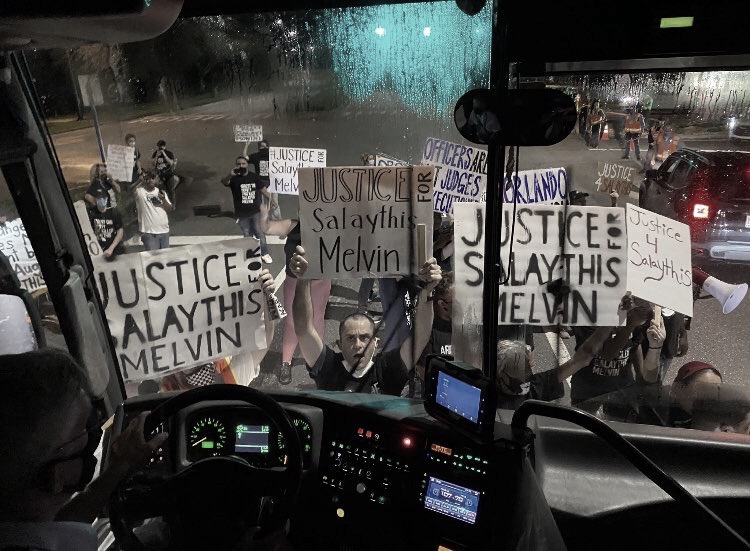 Black Lives Matter protesters blocked a NBA media bus inside the Walt Disney property, asking to LeBron James, Russell Westbrook and other top players to take notice.
The group blocked charter buses carrying members of the news media and some NBA staff, but no players or team personnel, according to Tim Reynolds from the Associated Press.
The protesters were advocating for justice for 22-year-old Salaythis Melvin, who was fatally shot by an Orange County sheriff's deputy last month. They were stood in front of the shuttle bus for 10 minutes before standing down, as the media and NBA staff re-entered the bubble.
They've now let the bus come through. pic.twitter.com/3pnMvls0qK

— Tim Reynolds (@ByTimReynolds) September 13, 2020
Sheriff's officials have said Melvin was armed, but attorneys for his family have said he posed no threat to the deputy involved.
The mall where Melvin was shot is 15 miles from the site of the ESPN Wide World of Sports complex.
Marc J. Spears of The Undefeated, Tim Reynolds of the Associated Press, Sam Amick of The Athletic, Kyle Goon of the Orange County Register, Gary Washburn of the Boston Globe and Chris Haynes of Yahoo Sports were some of the NBA journalists who were inside the bus.
A protest in The Bubble blocking bus filled with league staff and media. Waiting on sheriff to arrive. pic.twitter.com/dqOK6UgVcu

— Chris Haynes (@ChrisBHaynes) September 13, 2020
The NBA players have been really vocal about the social injustice issues that's been happening in the country. During the 2020 NBA Playoffs, teams even decided to boycott their games, following the police shooting of Jacob Blake, a 29-year-old Black man, who was shot by police multiple times in the back in Kenosha, Wisconsin.