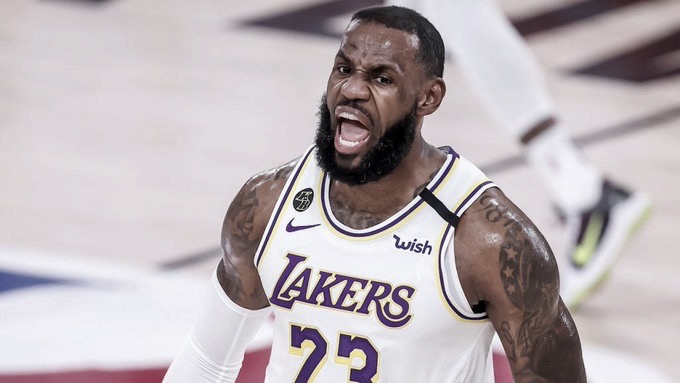 Giannis Antetokounmpo led the Milwaukee Bucks to having the best record in the NBA, and was named the Most Valuable Player for the second season in a row. Despite accepting Giannis' greatness, LeBron James didn't look happy when asked about the NBA awards voting scale, which he defined as "a little weird."
'The King' agreed that back-to-back winner Antetokounmpo had a great year, but it's the system and the voting breakdown that made him unhappy.
LeBron on losing MVP to Giannis - "It pissed me off. That's my true answer. It pissed me off cuz out of 101 votes, I got 16 first place votes. Not saying the winner wasn't deserving, but it pissed me off."#Lakers pic.twitter.com/8nVqnEdh47

— Tomer Azarly (@TomerAzarly) September 19, 2020
"Pissed me off. That's my true answer," he said when asked for his thoughts on his place in the race. "It pissed me off because out of 101 votes, I got 16 first-place votes. That's what pissed me off more than anything. You know, not saying that the winner wasn't deserving of the MVP. But that pissed me off. And I finished second a lot in my career, either from a championship, and now four times as an MVP.
"I never came into this league to be MVP or to be a champion. I've always just wanted to get better and better every single day, and those things will take care of itself. But some things is just out of my hand and some things you can't control. But it pissed me off."
James, who led the league in assists and guided the Lakers to the #1 seed in the Western Conference during the regular season, received only 16 of the 101 first-place votes.
LeBron has won the Most Valuable Player award four times during his 17-year NBA career.
"I don't know. I'm not going to sit up here and talk about what the criteria should be or what it is," he added. "It's changed over the years since I've gotten into the league, I know that. It's just changed. It's changed a lot. Sometimes it's the best player on the best team. Sometimes it's the guy with the best season statistically ... Giannis had a hell of a season, I can definitely say that."
This season, LeBron James averaged a career-high (and league high) 10.2 assists while averaging 25.3 points.