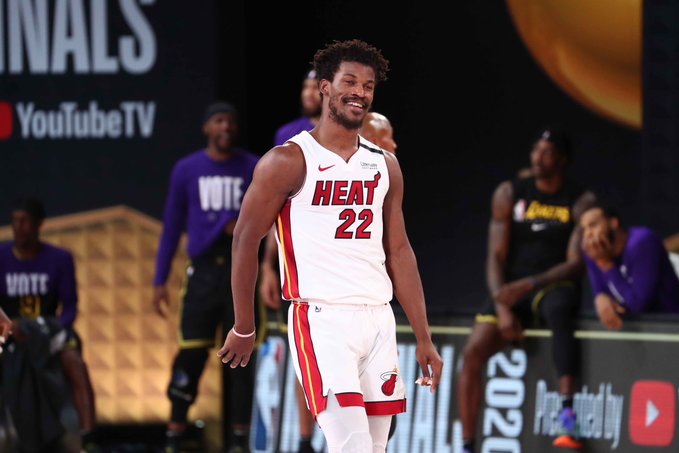 If 2020 has brought us anything good this year, it might just be these NBA finals. In tonight's Game 5, we witnessed a historic performance from Jimmy Butler, even with Goran Dragic remaining out due to injury.
About Butler, what more can you say other than "wow"? Jimmy has long been one of my favorite players in the league for his demeanor alone and tonight, as he has through most of the playoffs, put up the stats to put back his attitude.
To truly put his night in perspective, let us take a look at what he was able to do tonight. This is the list of players with multiple triple-doubles in a Finals series:
Wilt Chamberlain,
Larry Bird,
Draymond Green,
LeBron James (3x)
Magic Johnson (3x)
Jimmy Butler
This is Jimmy Butler's third game in this year's Finals with at least 25 points, 10 assists, and 5 rebounds. The only two other players who have had three 25/10/5 games in a single Finals series are Steph Curry in 2017 and Michael Jordan in 1991.
Make no mistake about it, Jimmy carried this team tonight and outdueled Lebron James.
But with that being said, the Heat didn't pull this game out with our key contributions from players like Duncan Robinson (7 3-pointers). Bam Adebayo and Tyler Hero who have continued to keep the Heat in this series with their rim protection and 3-point shooting.
Where does the series go from here?
While the Heat continues to gain confidence and regain players from injuries, it's hard to imagine themselves digging out of a hole this deep.
Getting Dragic back would go a long way, but I still don't think it will be enough to get the Heat to a game 7. Luckily enough; we get to find out Sunday at 7:30 pm EST.