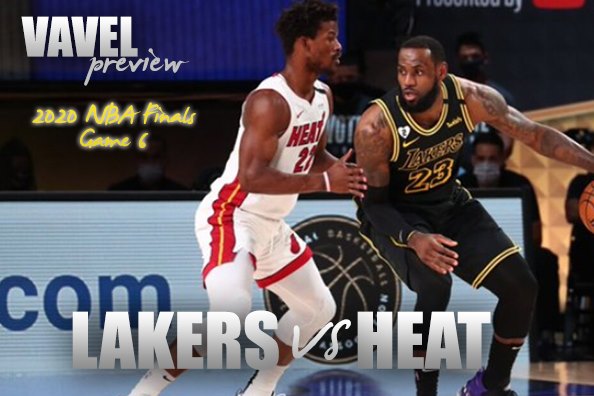 Following a great team performance by the Miami Heat on Game 5, Erik Spoelstra's team now trails 2-3 in the 2020 NBA Finals against the Los Angeles Lakers.
Jimmy Butler, who has led the team in the Finals in points, rebounds, assists, steals, blocks and minutes, said that winning Game 6 would be even harder than Game 5, but added "I like our chances."
With 35 points, 12 rebounds, and 11 assists, Butler also became the sixth player in NBA history to record multiple triple-doubles in the same Finals series, joining Magic Johnson, LeBron James, Larry Bird, Wilt Chamberlain, and Draymond Green.
On the other hand, the Lakers will come out as hungry as ever, especially after losing their winning streak when wearing the 'Mamba Jerseys'. The fact that Anthony Davis is able to guard Butler inside the paint has been a huge boost for Los Angeles, and with multiple players like Kentavious Caldwell-Pope and Markieff Morris stepping up, there's a lot of chances the Lakers can win the 2020 NBA championship in six games.
LeBron James seems to be on a mission, and thanks to his amazing averages in the 2020 playoffs, 'The King' only needs one more win to secure the fourth ring of his career. In case this happens, he would have four titles with three different organizations.
The head to head between James and Butler has been the story of the Finals. While LeBron is averaging 30.2 points, 11.4 rebounds and 8.2 assists while shooting 45 percent from 3-point range on more than six attempts per game, Butler is recording 29 points, 10.2 assists and 8.6 rebounds along with 2.6 steals.
These two teams have given us a battle for the ages from inside the 'bubble'. Regardless of the winner, we will witness history in the making from Orlando.