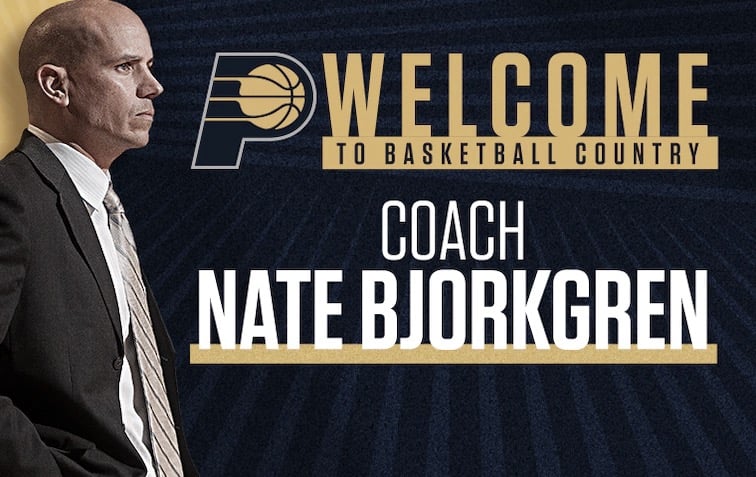 Following a first round series sweep against the Miami Heat in the 2020 NBA Playoffs, the Indiana Pacers decided to part ways with Head Coach, Nate McMillan.
Now, they have found their substitute. The Athletic's Shams Charania reported the Pacers are hiring Toronto Raptors assistant Nate Bjorkgren as their new head coach.
The Indiana Pacers are hiring Raptors assistant Nate Bjorkgren as their new head coach, sources tell @TheAthleticNBA @Stadium.

— Shams Charania (@ShamsCharania) October 20, 2020
Bjorkgren, who played college basketball for University of South Dakota and Buena Vista University, served as assistant coach of the Toronto Raptors during the past two seasons (2018-20), and helped the Raptors win their first NBA Championship during the 2018-19 season.
He also served as player development coordinator and assistant coach of the Phoenix Suns for two seasons from 2015-17.
Bjorkgren also served coached in the NBA G-League for four seasons, being in charge of the Bakersfield Jam (2014-15), Iowa Energy (2013-14), Santa Cruz Warriors (2012-13), and Dakota Wizards (2011-12).
"I am honored to take on the role as head coach of the Indiana Pacers," said Bjorkgren. "This is something I have prepared for during my career. I want to thank Kevin, Chad (Buchanan), Kelly (Krauskopf), Larry Bird, Donnie Walsh, and Herb and Steve Simon for this opportunity. I also want to thank Nick Nurse for giving me my first professional coaching job 14 years ago."
"I'm looking forward to working with this great team to achieve our goal as NBA Champions."
Changes are happening at Indiana. Recently, the NBA Insider Charania also leaked that the Sixers have hired Pacers executive Peter Dinwiddie as Executive VP of Basketball Operations.
The Philadelphia 76ers and GM Elton Brand are hiring Pacers executive Peter Dinwiddie as Executive VP of Basketball Ops., sources tell @TheAthleticNBA @Stadium.

— Shams Charania (@ShamsCharania) October 16, 2020