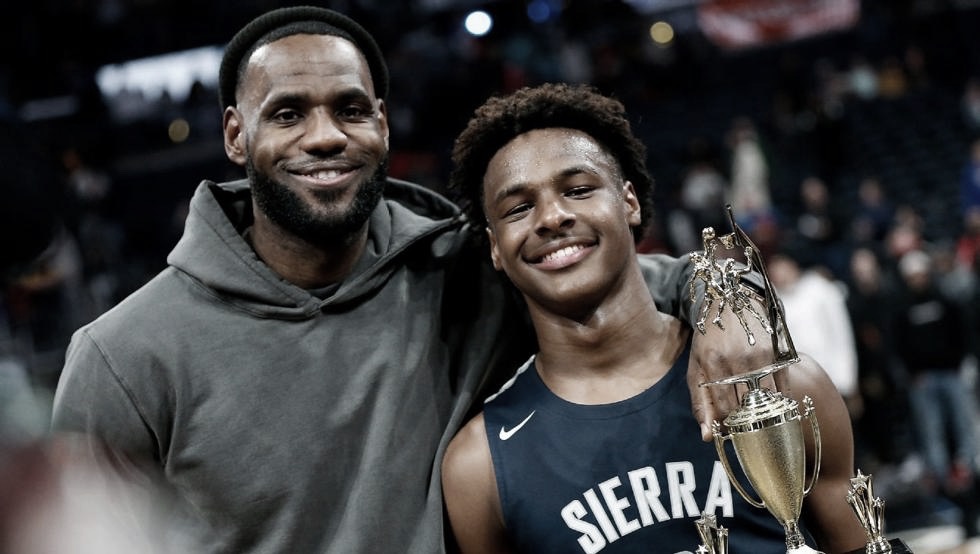 LeBron James has agreed to a two-year, $85M maximum contract extension with the Los Angeles Lakers.
This decision by 'The King' seems to be solely with the intention of possibly playing with or against his son 'Bronny' when he graduates from high school.
James' new contract runs through 2023, which is when his son graduates from Sierra Canyon High School. 'Bronny' could have option to enter the NBA Draft if the league and NBPA changes the 'one-and-done' rule and allows players to go pro straight from high school.
Los Angeles Lakers star LeBron James has agreed to a two-year, $85 million maximum contract extension with the franchise, CEO of Klutch Sports, Rich Paul, told @TheAthleticNBA @Stadium.

— Shams Charania (@ShamsCharania) December 2, 2020
Two year extension for LeBron James:

2021/22 $41,180,544 (replaces $41,002,274)

2022/23 $44,474,988

James can receive a 105% increase off his 2020/21 salary ($39.2M) and is not restricted by the 35% max rule ($39.3M) for the 2021/22 salary cap.

— Bobby Marks (@BobbyMarks42) December 2, 2020
thankful for these moments 👑 pic.twitter.com/Q0n6MbZsyM

— graydient (@graydientLA) November 26, 2020
Prior to the extension, James had two years remaining on the four-year, $153 million deal that he signed in 2018, including a player option for the 2021-22 season.
The Akron-native is coming fresh off a season where he led the Lakers to its first NBA Championship in 10 years. In just his second year with the Los Angeles organization, James was also named Finals MVP for the fourth time in his 17-year career.