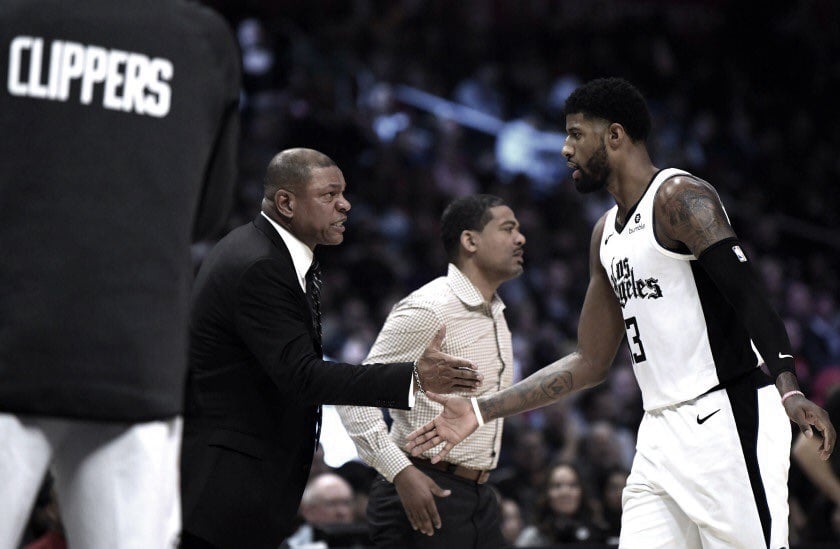 Following the Los Angeles Clippers exit from the NBA 'bubble' after their series loss against the Denver Nuggets, it was the end of an era for Doc Rivers in Southern California.
One of the most criticized players in the Clippers playoff run was Paul George, who wasn't able to find himself throughout the entire postseason.
Recently, George attended the 'All The Smoke Podcast' hosted by Matt Barnes and Stephen Jackson, where he revealed that Rivers wasn't using him right in the Clippers line-up.
"Doc (Rivers) was trying to play me as a Ray Allen or a JJ Redick, like all pin-downs," George said. "I can do it, but that ain't my game."
Paul George sounds off on Doc Rivers

"Doc was trying to play me as a Ray Allen or a JJ Redick, all pin-downs. I can do it, but that ain't my game."

(Via All The Smoke)

pic.twitter.com/IOczv4VPBD

— NBA Central (@TheNBACentral) December 2, 2020
Lots of controversy came after that statement made by 'PG13'. Both Allen and Redick made a name for themselves in the league for being great at shooting, and also characterized for their limited off the dribble plays.
Although this didn't affect Rivers, who is now the head coach of the Philadelphia 76ers, he did respond to George's comments in a sarcastic way, making reference to the now Clippers coach, Ty Lue.
"I enjoyed coaching him. So not a lot to say there," Rivers stated. "You know, Ty Lue was sitting right next to me, so he better hope it's not adjustments because it won't be much different."
Doc Rivers got jokes 😅 pic.twitter.com/hsiDlslQ6j

— SportsCenter (@SportsCenter) December 7, 2020
George really struggled during his first year with the Clippers. Last season, he averaged 21.5 points per game playing during the regular season, his fewest since 2014-15, and also didn't make an All-NBA team after being first team in 2018-19.
Incosistency was the key for the 30 year-old, who had 15 points or fewer in six of his 13 playoff games with Los Angeles.