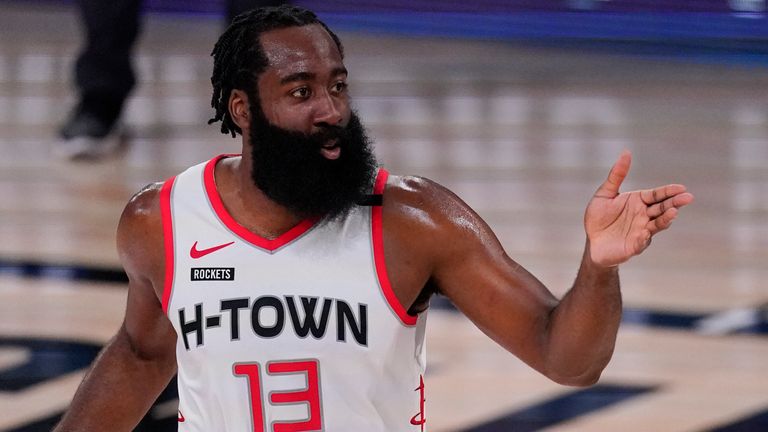 James Harden has been traded to the Brooklyn Nets to form a superteam with Kevin Durant and Kyrie Irving.
Harden will reunite with former Oklahoma City Thunder teammate Kevin Durant and former coach Mike D'Antoni, the assistant coach to Steve Nash now.
The Nets now have the 2017-18 regular-season MVP in James Harden and the 2013-2014 regular-season MVP in Kevin Durant, also a two-time finals MVP. They also have one of the best point guards in the league, and 2016 NBA Champion, Kyrie Irving.
After the Houston Rockets suffered another one-sided defeat to the Los Angeles Lakers, James Harden gave a brutally honest interview.
"Not good enough," Harden said. "Obviously chemistry, talent-wise, just everything, and it was clear like I said these last few games.
I love this city, I've literally done everything I can you know. This situation is crazy, something that I don't think can be fixed."
After being so openly critical of the franchise a lot of people expected the Rockets to trade their franchise player. Whilst former teammate John Wall answered with "no comment" when asked about Harden's comments, former teammate DeMarcus Cousins spoke on how disrespectful it was.
"Obviously it's disrespectful," Cousins said. "But you know everybody has a right to their opinion, we feel a certain type of way about some of his actions.
"The disrespect started way before any interview. Just the approach to training camp, showing up the way he did, the antics of the court."
Cousins also spoke on how he feels Rockets can still compete. The trade wasn't a bad deal for the Rockets as they gained Victor Oladipo.
Oladipo is a great two-way player averaging 20 points a game shooting 42% from the field. He and John Wall can still give the Rockets one of the better backcourts in the league.
Rockets will receive four first-round picks (the Nets' picks in 2022, '24, and '26 plus the Bucks' in 2022) and four first-round pick swaps with the Nets (2021, '23, '25, '27), all unprotected. Giving the Rockets a great base to rebuild or trade away to help them continue to compete.
The Rockets have been left in a good place after the trade. Trading Caris LeVert for Victor Oladipo could be seen as questionable as Oladipo is in the last year of his contract, but maybe the Rockets will impress Oladipo enough to stay. Worst-case scenario, he leaves, they still have a good number of picks from the trade.
NBA insider Adrian Wojnarowski said on ESPN: "This was something Kevin Durant very much wanted, he and Harden started talking about this months ago."
Durant and Harden played together in Oklahoma City Thunder, but times have changed significantly since then. Harden was the 6th man, now he is one of the greatest scorers to play the game. How will he fit with Irving and Durant?
Just because the stars probably wanted Harden doesn't mean it could be the greatest fit. Harden and Westbrook wanted to play together last year and we saw it not work and Westbrook ask for a trade. With Mike D'Antoni as assistant coach to the inexperienced Steve Nash, how much will Harden sacrifice of his regular game?
The Nets have become the most exciting team to watch in the NBA and if they can make these three superstars work, it is hard to imagine them not making easy work of the Eastern Conference in the playoffs.