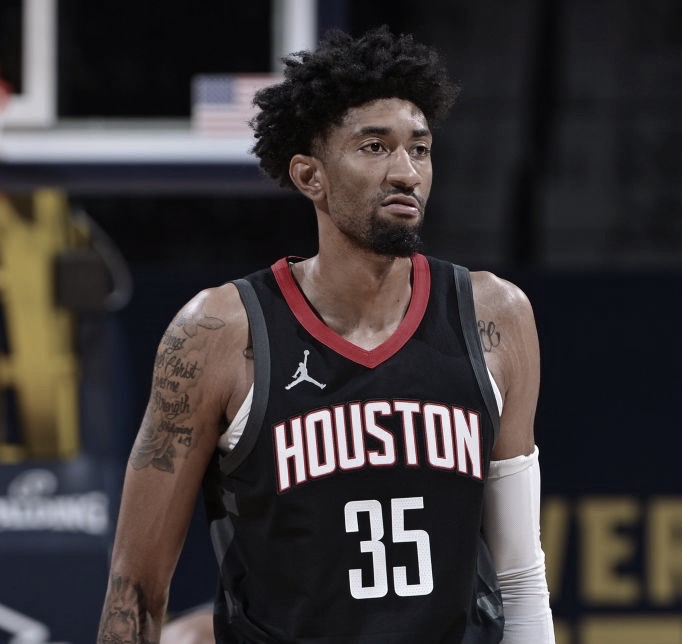 Christian Wood has been one of the biggest surprises of the season for some NBA fans.
He also, whilst he was at the Detroit Pistons, showed how good he is. However many are still surprised at the level he is playing at
The 6'10 athletic big man with a 7'4 wingspan is currently averaging 23.3 points per game and 10.7 rebounds. He is emerging as one of the best big men in the league.
His versatility on offense makes him one of Houston's most important pieces.
Wood is a good 3-point shooter, shooting 39.1% from beyond the arc. Shooting threes is still a prominent part of the Houston offense. We saw them set a franchise record with 28 threes.
His 3-point shooting is only part of what else he brings to an offense. Wood is also a good ball-handler considering his height and position. Therefore, he can get to the basket himself and finish strong.
He is the ideal center for any point guard due to how good he is in the pick and roll. Wood is great at rolling to the basket, and at finishing at the rim.
Christian Wood M̶I̶P̶ MVP#NBAAllStar pic.twitter.com/n9Zvyqsiee

— Houston Rockets (@HoustonRockets) February 2, 2021
His athleticism makes him difficult to stop at the rim when he is rolling. He also can fade out of the screen for a shot. He is a center that will always keep defenses on their toes.
We saw him excel playing with James Harden, who utilizes the pick and roll better than most guards, but he continued to perform to an elite level without him.
Wood has been really consistent for the Rockets this whole season, his best game so far came against San Antonio Spurs in their first game. Wood dropped 27 points, 3 blocks, and 15 rebounds.
Wood did pretty much everything this game, defended well, protected the rim, and shot the ball extremely well. He went 5-7 from three. Including a big 3-pointer to tie the game with less than three minutes left.
Despite, the challenging career he's had so far he remains confident in his game, and rightly so. He went undrafted, waived by multiple NBA teams, waived by a Chinese team, Fujian Sturgeons, and had numerous seasons in the G-League.
However, now he has finally been given stability and everyone now knows how good he is.
"The long-term contract meant a lot to me," Wood said in an Undefeated phone interview.
"It showed me how hard I worked and how far I came. From going from minimum and non-guaranteed contract, to being waived a number of times that I couldn't even tell you.
"Signing three years, $41 million. It's incredible."
Wood also added, "Not to be cocky, but I actually think I'm worth more than that."
It looks like there was competition to sign Wood after the promise he showed in Detroit. Signing him for three years was a great move by the Rockets as he will only get better.
On July 11th, 2020 Wood tweeted: "I'm determined to be one of the best bigs in the league." He is definitely on his way to achieving this.
I'm determined to be one of the best bigs in the league

— Christian Wood (@Chriswood_5) July 11, 2020