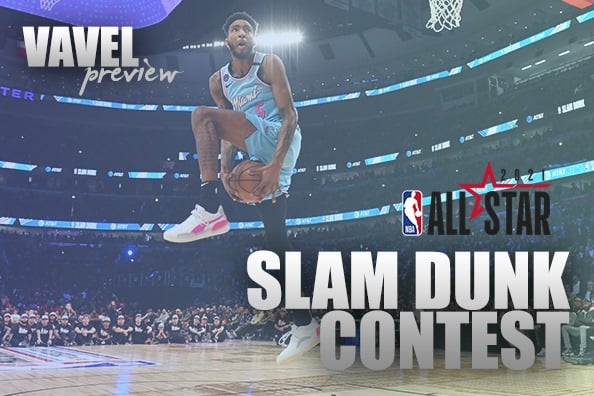 The stage is set for one of the most important events of the NBA season. The Slam Dunk Contest participants have been announced, and the competition will take place during halftime of the 2021 All-Star Game.
New faces only will feature in the event, which includes two rookies and one third year player. Portland's Derrick Jones Jr. is the reigning Dunk Contest champion but revealed he won't be defend his crown this year.
The #ATTSlamDunk field at #NBAAllStar!@cassius_stanley@obitoppin1 @AnferneeSimons pic.twitter.com/9oTf6vjH5S

— #NBAAllStar (@NBAAllStar) March 3, 2021
Competitors
Anfernee Simons - Portland Trail Blazers
The Portland Trail Blazers guard Anfernee Simons will compete in the NBA All-Star 2021 Slam Dunk Contest on Sunday, March 7 at State Farm Arena in Atlanta.
The 21 year-old is averaging 8.2 points, 2.4 rebounds, 1.3 assists and 17.4 minutes while shooting 40.7% from the three-point line this season.
Simons is the sixth Slam Dunk participant in Trail Blazers history, joining Damian Lillard, Rudy Fernandez, James Robinson, Jerome Kersey and Clyde Drexler.
Obi Toppin - New York Knicks
New York Knicks rookie Obi Toppin was the first player to confirm he would be participating in this year's Slam Dunk Contest.
The first year player out of Dayton has shown his athleticism while playing in New York. Toppin, who missed 10 games earlier this season with a calf injury, is averaging 4.8 points and 2.4 rebounds in 12.1 minutes per game.
Toppin was the eighth overall pick in the 2020 NBA Draft.
Cassius Stanley - Indiana Pacers
Although he has only played eight games in the NBA this season, Cassius Stanley has been ready to show his 'bounce' for a while.
Prior to his days at Duke, Stanley was known for being a high-flyer, therefore it shouldn't surprise us if the 21 year-old is the dark horse of the competition. Stanley registered a 44-inch max vertical jump during the pre-draft testing, which ranked as the third-highest ever.
Stanley is currently on assignment in the NBA G League with the Fort Wayne Mad Ants, and will become the first player signed to a two-way contract to perform in the Slam Dunk Contest.