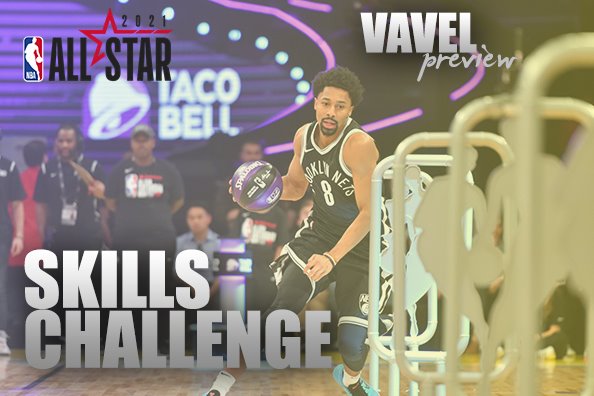 The NBA All-Star Weekend in Atlanta, Georgia is right around the corner, and as usual, the three competitions plus the All-Star Game are expected to catch the entire country's attention.
One of the most entertaining competitions from the weekend is the Taco Bell® Skills Challenge, which this year will feature six players, with five of them participating in the All-Star Game.
The #TacoBellSkills field at #NBAAllStar!@Holla_At_Rob33 @luka7doncic @CP3 @J30_RANDLE @Dsabonis11 @NikolaVucevic pic.twitter.com/iLQ4duIhvR

— #NBAAllStar (@NBAAllStar) March 3, 2021
The challenge is a three-round competition with a single-elimination tournament format. Two players will compete simultaneously on an identical course and the winner of each head-to-head matchup will advance to the next round.
Competitors
Robert Covington - Portland Trail Blazers
Portland Trail Blazers forward Robert Covington will compete in the NBA All-Star 2021 Skills Challenge at the State Farm Arena in Atlanta, Georgia.
Covington, who is averaging 7.7 points, 6.5 rebounds, 1.7 assists, 1.55 steals and 1.06 blocks in 31.6 minutes per game, is one of just six players in the NBA who is averaging at least 5.0 rebounds, 1.0 assist, 1.00 steal and 1.00 block per game.
Covington will be the third player in Trail Blazers history to compete in the Skills Challenge, joining CJ McCollum and Damian Lillard.
Luka Doncic - Dallas Mavericks
For the second time in his career, Dallas Mavericks superstar Luka Doncic will be taking part of the NBA Skills Challenge during the All-Star Weekend.
Doncic, who is also making his second consecutive appearance as a starter in the All-Star Game, is averaging 27 points per game with the Mavericks this season.
As stated by the league, the Skills Challenge is an obstacle course designed to test players' dribbling, passing, agility and 3-point shooting skills.
Chris Paul - Phoenix Suns
As called by many, 'The Best Leader In The NBA', Chris Paul from the Phoenix Suns will also be participating in the Skills Challenge this year.
Paul, who received an NBA All-Star selection for the 11th time, will make his record fifth appearance in the Taco Bell® Skills Challenge and his first since 2011.
'CP3' has made an impact in his first season with the Suns, leading them to playoff spots and averaging 16 points per game, along with 4.7 rebounds and 8.8 assists.
Julius Randle - New York Knicks
New York Knicks star Julius Randle won't only be making his debut in the All-Star Game, but he will also be participating for the first time in his career in the Taco Bell® Skills Challenge.
Randle, who has led the Knicks to a record over .500, has been one of the most impressive performances of the NBA this season.
Over the years, the NBA has welcomed more big men into the competition, therefore it shouldn't surprise us to see an upset and Randle go home with the first place trophy.
Domantas Sabonis - Indiana Pacers
Perhaps one of the most underrated players in the association, and after entering the All-Star Game as a substitute replacing Kevin Durant, Indiana Pacers' Domantas Sabonis will participate in the festivities.
Sabonis, who is returning to compete as the 2020 runner-up, defeated Jayson Tatum and Khris Middleton to advance to the final round last year. He would then lose to Bam Adebayo.
NBA legend Shaquille O'Neal even admitted that Sabonis is his favorite to win the challenge.
Nikola Vucevic - Orlando Magic
Orlando Magic's Nikola Vucevic not only will be participating in his second All-Star Game in Georgia, but will also feature in the Taco Bell® Skills Challenge.
Vucevic is looking to avenge his first-round loss back in 2019, where fellow European 'Big Man' Nikola Jokic defeated him.
Nikola Vucevic has proved to have good handles and passing ability for a big man, and his three-point shot improved, as he's averaging 41.8% from three on 6.4 attempts per game.