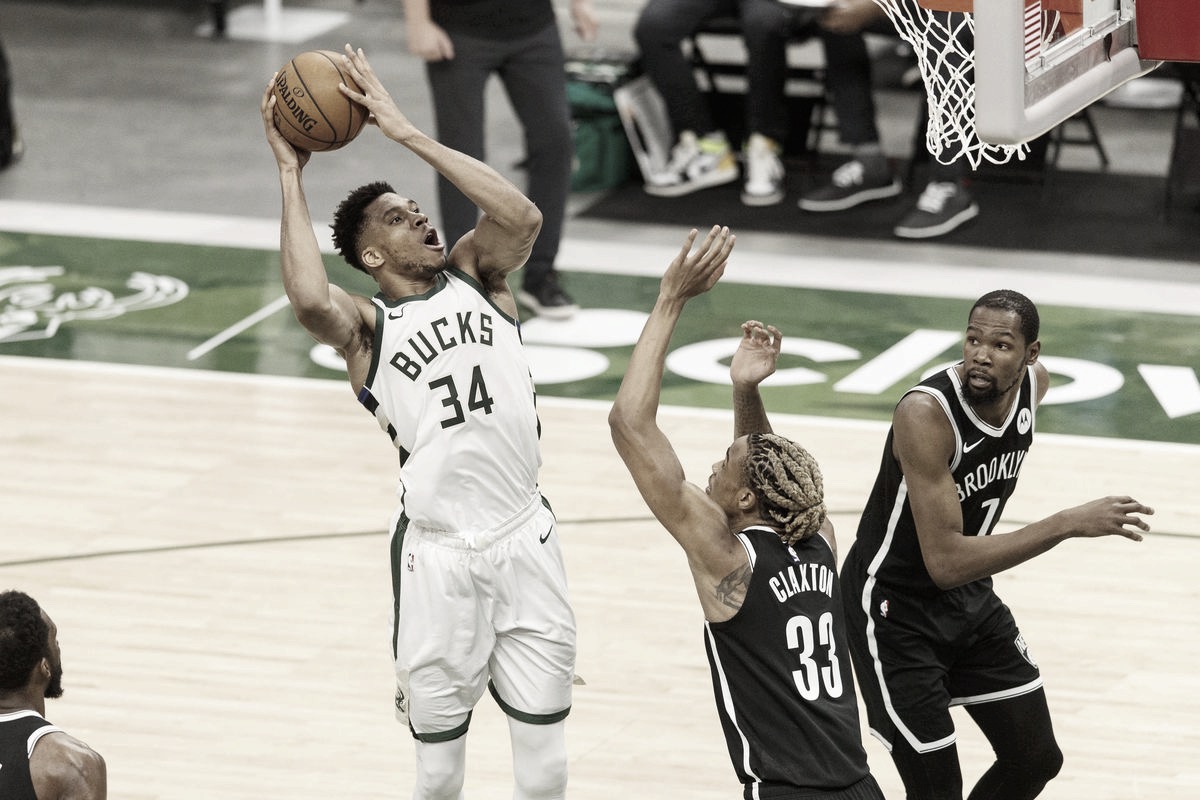 The Milwaukee Bucks and Brooklyn Nets meet in one of the most anticipated matchups of the playoffs.
They are arguably the two strongest sides in the Eastern Conference, depending on how you view the Philadelphia 76ers.
This will be the Nets' hardest challenge they've faced as a team. Their big three of James Harden, Kyrie Irving, and Kevin Durant face a lot of pressure to deliver a championship due to them having a 'super team'.
Although, the Bucks are a strong team in their own right and seem to be the perfect team to take advantage of the Nets' weaknesses.
They lack paint protection with really only De'Andre Jordan as arguably a high-level rim protector. The Bucks have one of the most unstoppable forces in the NBA, in Giannis Antetokounmpo.
Despite Antetokounmpo being limited in other tough playoff series, that doesn't mean the Nets will be able to stop him.
If Jordan was to get into foul trouble it's hard to see the Nets being able to stop the 'Greek Freak'.
The Nets will do what most teams in the NBA do to stop him. That is crowd the paint and invite him to shoot the ball.
The Nets don't have defenders at the level of a Kawhi Leonard, or Jimmy Butler and Bam Adebayo so it's not certain that they will be able to keep Antetokounmpo from getting to the rim.
Even so, he is not Buck's only threat, as they showed when they swept last year's finalist, the Miami Heat. Khris Middleton and Jrue Holiday are problems.
Like Antetokounmpo, they are not just problems offensively but also on defense. All three of them are good defenders, especially Antetoounmpo and Jrue Holiday.
The Nets have possibly, the greatest offense the league has ever seen. Their big three is made up of some of the best individual scorers in the history of the game.
In order to compete with them, you are going to need to be a good defensive team, which the Bucks are.
Although the Nets offense does look quite unstoppable. Harden is thriving in the playoffs right now, scoring aswell as playmaking at a high level.
Harden is averaging 27.8 points and 10.6 assists per game in the playoffs so far. Kevin Durant is averaging 32.6 points per game whilst shooting 54.6% from the field.
Their other star, Kyrie Irving, is averaging 26.9 points and 6 assists.
An exciting match up ahead for all NBA fans. Can the Bucks stop the Nets' big three? Will Giannis dominate the paint like expected?