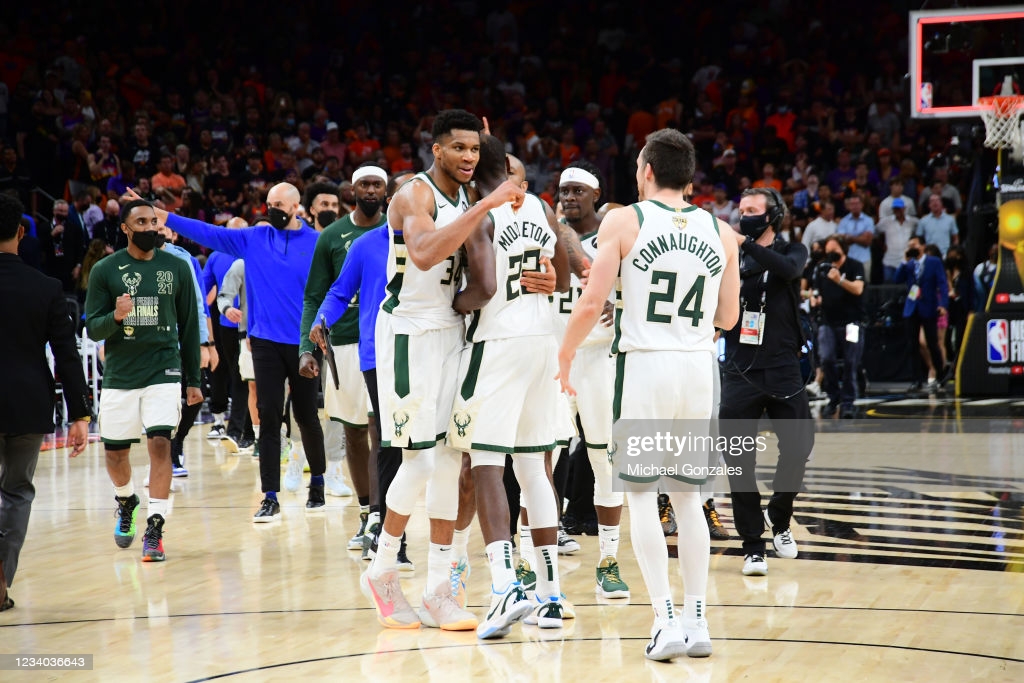 The Milwaukee Bucks are one win away from their first NBA championship since 1974 following a 123-119 victory over the Phoenix Suns at Phoenix Suns Arena.
Giannis Antetokounmpo led Milwaukee with 32 points, nine rebounds and six assists. Khris Middleton chipped in with 29 points and seven rebounds and Jrue Holiday added 27 points and 13 assists.
Devin Booker was high man for Phoenix with 40 points while Chris Paul had 21 points and 11 assists. DeAndre Ayton also had a double-double with 20 points and 10 rebounds.
After Holiday made the first shot of the game, Jae Crowder scored eight points to help get the Suns out to a 14-9 lead. They extended their advantage to 32-16 by shooting 80% from the field, 80% on threes and registering five steals already on the books in the first nine minutes.
Bucks coach Mike Budenholzer called timeout and with Holiday saddled with two fouls, Phoenix led 37-21 after one quarter. Booker led all scorers with 11 points.
Milwaukee started the second quarter on an 11-3 run to cut the lead to 40-32 with Antetokounmpo on the bench. Suns coach Monty Williams called a timeout of his own, but the Bucks went on another run to tie the game at 42.
The two teams went back-and-forth and at the half, Milwaukee led 64-61 thanks to a 43-point second quarter. They connected on six of nine three-point attempts with Holiday the high man with 18 points. Booker had 15.
Momentum stayed with the Eastern Conference champions as they made nine of their first 12 shots and took a ten-point lead. A fallaway 20-footer by Antetokounmpo put Milwaukee up 11 with 3:09 remaining.
Leading 100-90 entering the fourth quarter, the Bucks led by eight with 5:44 left when Phoenix challenged a review a defensive shooting foul on Ayton, but it looked like a hook on Antetokounmpo but also a step out of bounds. The play was reviewed and the call stood.
On the next possession, the Suns cut the lead back to six on a little Paul, but Antetokuonmpo split a pair from the foul line. Booker and Middleton made a three-point play and Milwaukee went back up ten.
Phoenix made one last run. Paul made a three, and then Ayton got a pair of free throws to cut the Bucks lead to five with 2:43 left. Middleton hit a step-back three and although Booker answered with a basket, a late rally wasn't enough and Milwaukee hung on.