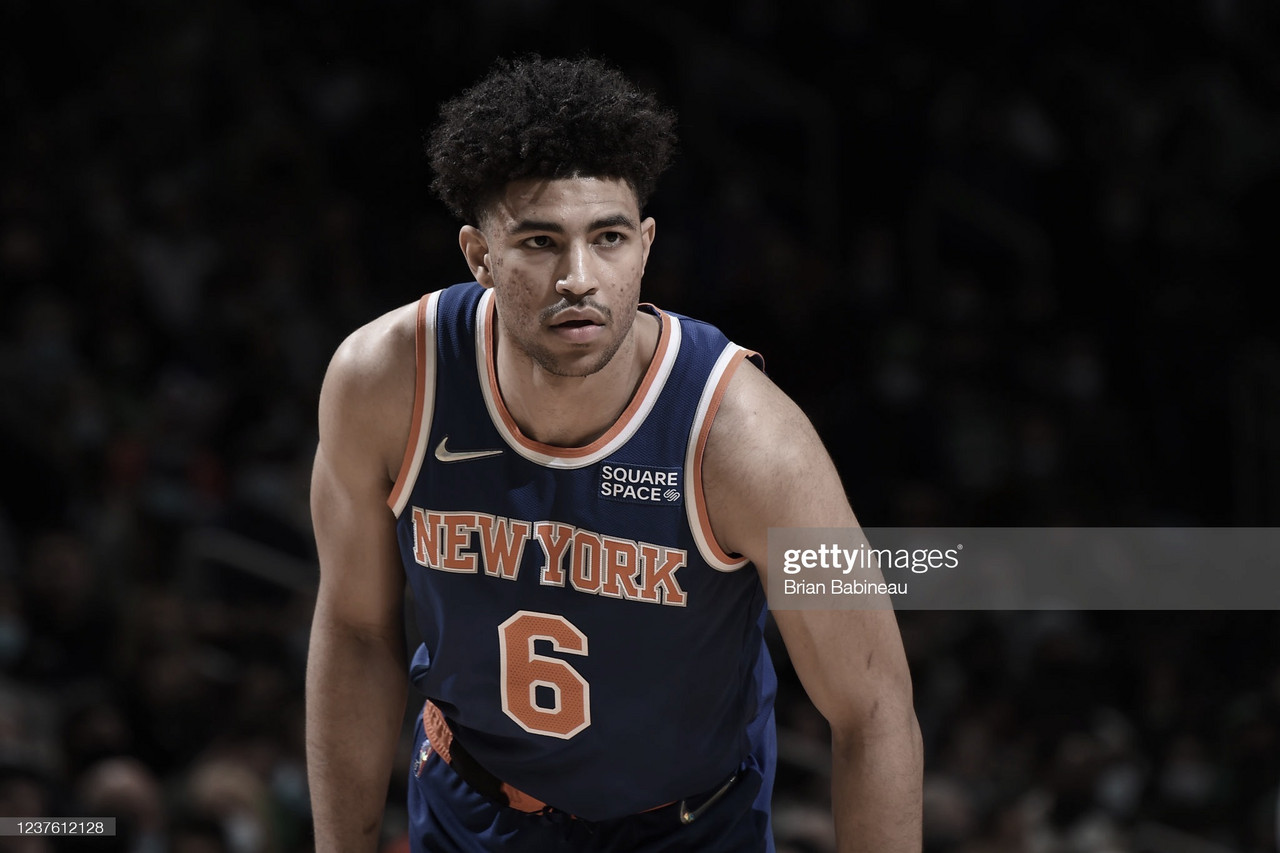 Earning minutes under Tom Thibodeau is everything but an easy task for young players who are trying to leave a mark and help their team win.
Rookie Quentin Grimes has struggled all season to find consistent minutes with the Knicks. Just before the All-Star break, the first year player out of Houston seems to be finding his footing in the NBA.
The 21 year-old went from only playing two games with New York in October 2021 to breaking into Thibodeau's rotation and featuring in 15 games in January 2022.
This month, Grimes averaged 43% from three while recording 21 assists and 14 blocks.
''My dad always told me that it doesn't matter if you are playing or not playing a lot, you gotta treat practice like its a game,'' Grimes told the New York press.
''If I'm bs-ing in practice, it's not going to help me in the game, especially as a rookie.
I love playing and I want to play as long as I can so I need to take it very serious every time I step on the court.''
Two scoops for Q 🍨🍨 pic.twitter.com/TCxATLUZaj

— NEW YORK KNICKS (@nyknicks) February 1, 2022
Many fans in Manhattan are impressed by Grime's performances. They even call him the 'steal of the 2021 NBA draft'. The Texas native was selected with the 25th pick by the Los Angeles Clippers and then traded to the New York Knicks that same night.
In his first career start earlier this season, Grimes scored 27 points with seven three-pointers as well as three rebounds and three assists, in a loss to the Milwaukee Bucks.
"He's good, he's really good," former NBA All-Star Julius Randle said on Quentin Grimes. "He competes on the defensive end and I think he has much more in his game than just shooting.
With experience he will get better. He's talented and competes. I think he is gonna have a bright future in the league.''
"He's good, he's really good" - Julius Randle on Quentin Grimes pic.twitter.com/vj7ZsN8Dkx

— Knicks Videos (@sny_knicks) February 1, 2022