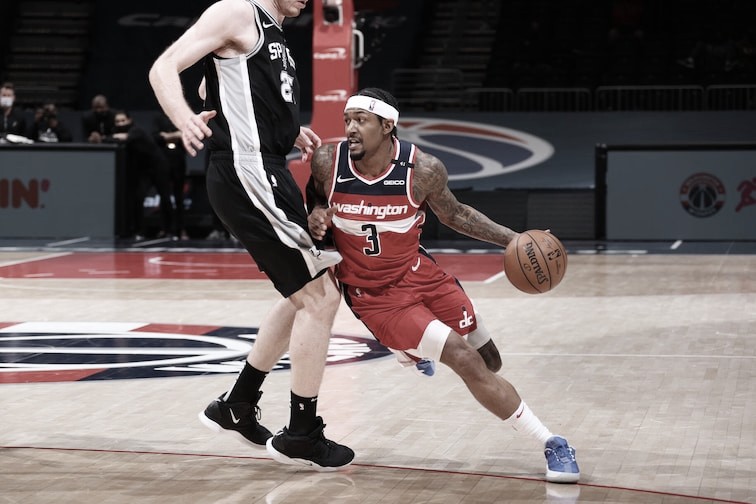 Key performances
Teams' stats
Game over!!
Timeout Spurs
Spurs close to the win
Timeout Washington
Less than two minutes to the end
Daniel Gafford
The second overtime period begins
SECOND OVERTIME!!
All tied up!
Timeout Washington
Turnover
Keldon Johnson
Overtime begins
Overtime!!
Timeout Spurs
Spurs sequence
Kyle Kuzma
Timeout on the floor
Missed the 3-point chance
End of the 3rd quarter
Turnovers on the 3rd quarter
Travelling
Triple-double
Timeout Spurs
Steal
Timeout Washington
Second half begins
Key performances so far
Teams' stats
Halftime
Dejounte Murray
Kyle Kuzma
Timeout Washington
Kentavious Caldwell-Pope
Fim do primeiro quarto
(should be) 2 and 1
Timeout on the floor
Crushed it
Clock ran out
Spurs timeout
Nasty ball
Ball goes up
Spurs starting five
Little delay
Wizards starters
Wizards update
Good evening
Tune in here Wizards vs Spurs Live Score
How to watch Wizards - Spurs Live Stream?
What time is Wizards-Spurs match for NBA?
Latest games between Wizards vs Spurs
Probable lineups of Wizards vs Spurs
Who will referee the game?
Spurs report
Wizards report
The match will be played at the Capital One Arena
Welcome to VAVEL.com's coverage of the NBA match: Wizards vs Spurs Live Updates!