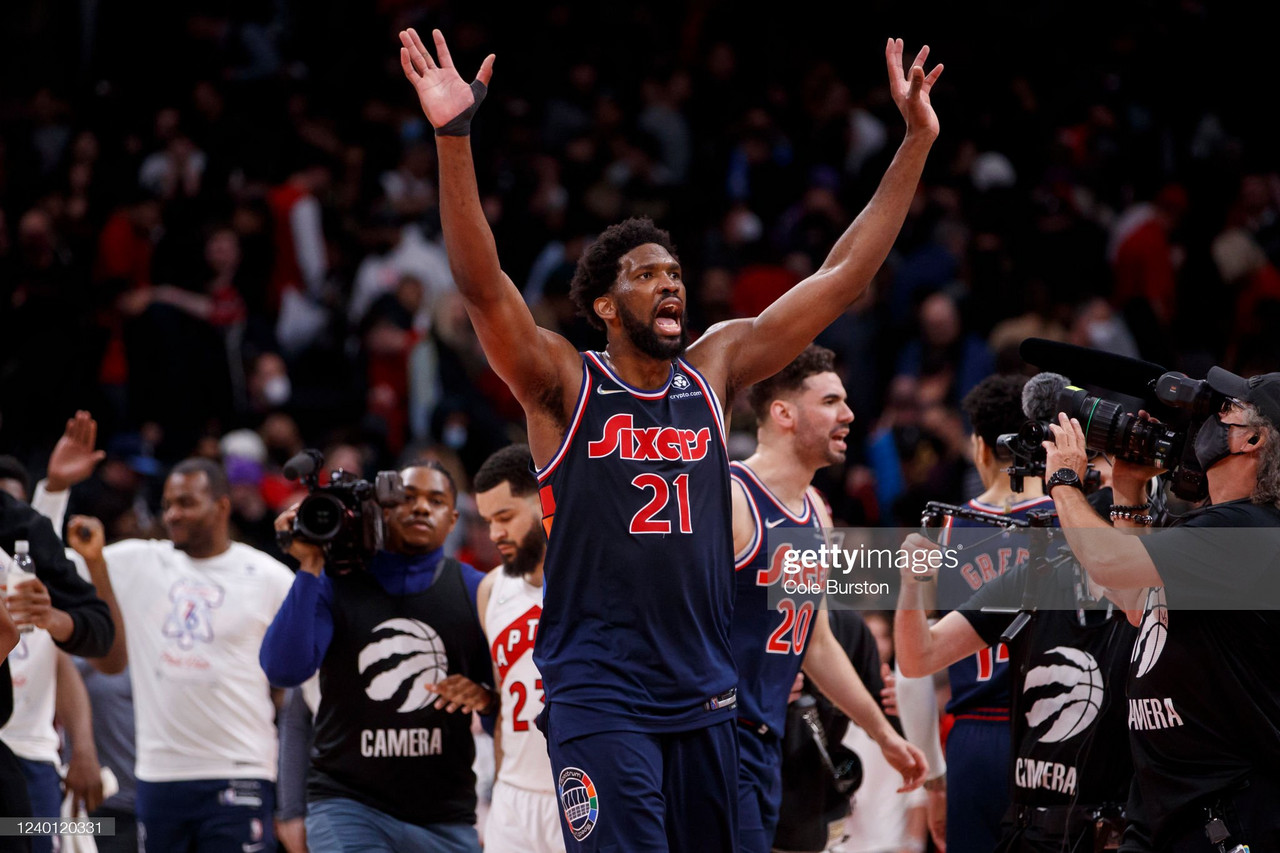 There was no panic amongst the Philadelphia 76ers organization after losing back-to-back games against the Toronto Raptors.
Previously having a three game cushion over the Raptors, the Sixers closed out the series with a dominant display at Scotiabank Arena.
Toronto also faced their third elimination game in a row and second without one of their main stars, Fred VanVleet due to a hip flexor strain.
Sixers team effort
In large part to Joel Embiid's 33-point and 10-rebound performance, the Sixers secured a spot in the Eastern Conference semifinals where they'll face the Miami Heat.
Philadelphia had five players in double digits including Embiid's incredible display to eliminate doubts of a potential comeback by Toronto.
The Sixers built their advantage in the third quarter after outscoring the Raptors 37-17 and going into the last 12 minutes of play with a 21-point lead.
Tyrese Maxey and James Harden also posted a combined total of 47 points to lift Philadelphia over Toronto 132-97.
Referees rule 'no-basket' in this Previous Achiuwa dunk over Joel Embiid at the end of the third quarter. #NBAPlayoffs #WeTheNorth #PhilaUnite pic.twitter.com/otKSo5zPok

— Eduardo Villalpando (@eduardovh_mx) April 29, 2022
No firepower for Toronto
The Raptors started off with great energy and had impressive performances by Pascal Siakam and Chris Boucher.
Both forwards scored a combined total of 37 out of Toronto's 62 first half points.
Boucher finished with a team-high of 25 points and 10 rebounds.
Pascal Siakam already got 16 points with over three minutes remaining in the half… here's some of his pregame warmup! #NBAPlayoffs2022 #WeTheNorth pic.twitter.com/LYGM2dwYog

— Eduardo Villalpando (@eduardovh_mx) April 28, 2022
Scottie Barnes was the team's third leading scorer in the game with 16 points. However, the team effort by the Sixers was just too much for Nick Nurse's team to handle.