As the weeks closed in on the NBA Draft, the Phoenix Suns were surrounded in trade speculation that included the Suns trading away the No. 4 pick.
Whether it was trade rumors for Jimmy Butler, Kristaps Porzingis, Kevin Love, and DeAndre Jordan, there was plenty of talks for going on within the Suns organization.
On draft night Thursday evening, all trade talk was put to rest as the Phoenix Suns selected Josh Jackson, forward out of Kansas. Jackson is regarded as the best two-way player in the draft, being able to guard the best player on the opposing team and has great scoring capability.
"I think I can bring a lot of defensive versatility, offensive versatility. I can guard one through four on the defensive end and I can play one through four on the offensive end." Jackson told ESPN reporter Allison Williams.
Before Kansas
Jackson would start his high school career at Consortium College Prep School in Detroit, Michigan. As a sophomore, Jackson would lead the school to their first state title.
As a junior, his family would move to Napa, California and would finish out his high school career at Justin-Siena High School. As a senior, Jackson would average 26.9 points per game, 13.1 rebounds per game. Jackson would play in the 2016 McDonald's All-American Game, he would be named co-MVP.
Jackson was a five-star recruit and was considered as one of the top players in the 2016 class. On April 11, 2016, Jackson would tweet that he would play for the Kansas Jayhawks.
One Season at Kansas was All it Took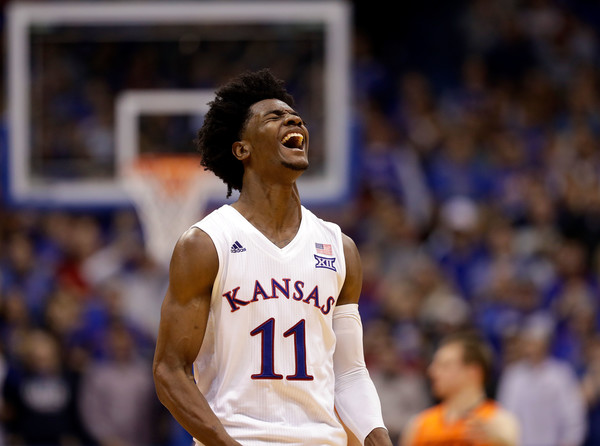 While only playing one season at Kansas, Jackson would showcase his scoring ability, his rebounding skills, play-making ability, and good defending.
During his lone season at Kansas, Jackson would average 16.3 points per game while shooting 51 percent from the field, while averaging 7.4 rebounds per game and three assists.
Jackson accolades would include being named All-Big 12 first-team, Big 12 Freshman of the Year, and AP third-team All-American.
What Jackson Brings to the Suns
Jackson (6-7, 208 pounds) joins a rebuilding Suns teams that haven't been to the playoffs in seven years. When the Suns' playoff hopes were diminished, the organization shut down key players with the hope of securing a high draft pick.
In Jackson, they will get a physical competitor that will make the Suns defense better. On offense, Jackson will join a line-up that includes Devin Booker (20) Marquese Chriss (19) and Dragan Bender (19).
Jackson (20) joins a Suns team that if full of youth. The future in Phoenix just keeps getting brighter.