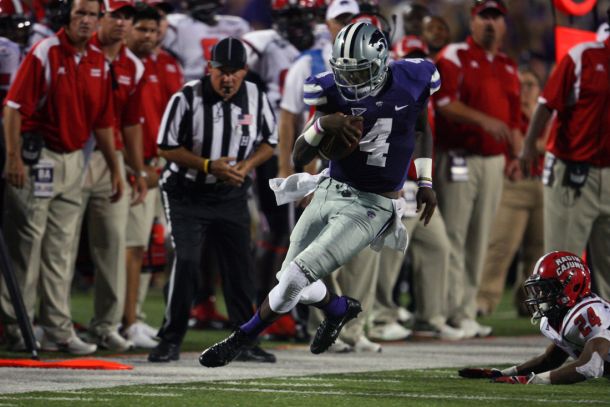 USC Running Back Ty Isaac Will Transfer
Sophomore running back Ty Isaac will transfer from USC as confirmed by the Trojans Athletic Department. The Joliet, Illinois native has been released from his scholarship and will transfer to a school to be closer to his ailing mother.
As a true freshman in 2013, Isaac tallied 40 carries for 236 yards and two touchdowns. In addition, he had four catches for 57 yards. Isaac was expected to be a backup to the talented duo of Tre Madden and Buck Allen.
There was no mention of where Isaac will transfer to, but there is a litany of options. He could transfer to Notre Dame, Northwestern, Illinois, Wisconsin, Michigan, Michigan State, Indiana, Purdue, or Iowa. No matter where he ends up a school will be getting a talented player. Isaac was a four star recruit at Joliet Catholic Academy where he was highly sought after in recruiting.
Michigan State and Arizona State Schedules Home-and-Home For 2018-19
The Michigan State Spartans and Arizona State Sun Devils agreed to a home-and-home series in 2018 and 2019. Arizona State will host the first game on September 8, 2018 with the return trip at Michigan State on September 14, 2019.
For Michigan State, the home-and-home will replace Notre Dame on the schedule in 2018 and 2019. Arizona State moved their 2018 game with San Diego State back one week to September 15 to accommodate the game with Michigan State.
Michigan State and Arizona State have only met twice on the football field. The Spartans won 12-3 in 1985 at home while Arizona State won in 1986 at home, 20-17.
USF Strength Coach Hans Straub Resigns
Hans Straub has resigned his position as South Florida's strength and condition coach following his criticism of the San Francisco 49ers drafting Aaron Lynch. Lynch was a defensive end at South Florida and recorded six sacks in 2013.
The tweet by Straub read, "Thought an organization with 5 Super Bowl titles would have a stricter draft criteria. Clearly, integrity & character are not a priority." Straub later deleted the tweet. USF placed Straub on an indefinite leave of absence before his resignation on Tuesday.
Lynch was taken in the 5th round by the San Francisco 49ers after recommendation from current South Florida coach Willie Taggart. Lynch was an All-American at Notre Dame in 2011 before transferring to South Florida. He sat out the entire 2012 year under NCAA rules.
ACC Votes to Stay at Eight Conference Games
The Atlantic Coast Conference's athletic directors voted on Monday to stay at 8 conference games. That makes the ACC and SEC the only conferences to have an eight game schedule. The Big 12 and Pac 12 conferences already have nine conference games. The Big 10 has already made it known they are moving to nine conference games starting with the 2016 season.
In addition to staying at 8 conference games, ACC teams will have play one game a season against a team from the five power conferences starting in 2017. Included in those power five conferences would be Notre Dame. The ACC already has an agreement with Notre Dame in which five ACC teams will play the Fighting Irish each year.
Kansas State WR Daniel Sams Will Transfer
Daniel Sams will transfer from Kansas State to be closer to his family. Sams was stationed at the quarterback position in his 3 years with the Wildcats before requesting a switch to a new position. The coaches granted his request and placed Sams at wide receiver. Sams was not effective at wide receiver during spring practice.
Sams started his career with a redshirt in 2011. He was a backup for Collin Klein during the 2012 season in which the Wildcats won the Big 12 and culminated with a loss to the Oregon Ducks in the Fiesta Bowl. In 2013, Daniel Sams split time at quarterback with Jake Waters before Waters solidify his spot atop the depth chart late in the season. For his career, Sams had 507 yards passing, 4 touchdowns, and 4 interceptions. In addition, Sams totaled 1,042 yards rushing and 14 touchdowns on the ground.
The transfer options for Sams are limited given he has already used his Redshirt. If he chooses to play in the FBS, he will have to sit out the 2014 season and will only have 1 year of eligibility remaining. A better option, and currently more likely, is for Sams is to transfer to an FCS school. Sams is from Slidell, Louisiana and there are four FCS schools in Louisiana that are possibilities; McNeese State, Nicholls State, Southeastern Louisiana, and Southern University.
Nebraska LB Josh Banderas Charged With Felony Theft
Linebacker Josh Banderas and Lucas Keifer, an athlete on the Track and cross-country teams, were arrested and charged with Felony Theft on Monday evening. The pair was spotted stealing bikes around 5 PM on Monday according to a witness. A police officer stopped the duo in Keifer's truck and found seven bikes in the bed of the truck along with a pair of bolt cutters. The value of the seven bikes was approximately $1,700.
The two men were released on $3,500 bond and are scheduled to appear in court on June 17.
Banderas played in all 13 games and started 4 during the 2013 season as a true freshman. He recorded 28 tackles and 2 sacks. Banderas was expected to compete with Michael Rose to start at Middle Linebacker during fall camp.
Banderas is the son of Tom Banderas, who played tight end for Nebraska from 1984 to 1987. There has been no comment from the coaching staff, nor the administration on the arrest.