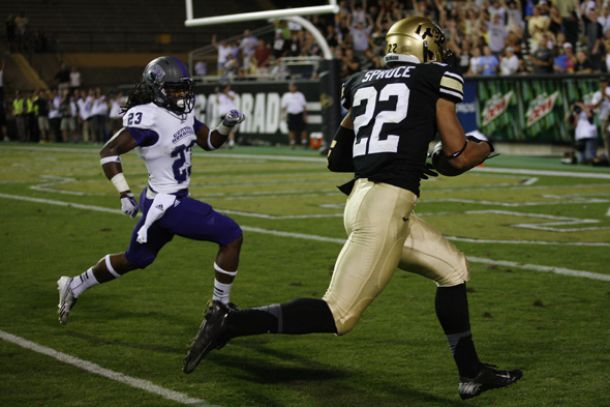 The Colorado Buffaloes have the 24th most wins in history of any college football teams with 679 overall. Life has been tough for them since they joined the Pacific 12 Conference back in 2011, but it was rough in the Big 12 North even before that. Since they had originally hired Dan Hawkins from Boise State before the 2006 season, they have posted an overall record of 29-69. They have a National Championship from back in 1990, but they are definitely falling short in the new era of college football with no titles in the BCS era. Here is a look at each of their games from last season.
2013 Colorado Buffaloes 4-8
September 1st--Win - Colorado State Rams at Sports Authority Field at Mile High Stadium in Denver, Colorado, 41-27
September 7th--Win - Central Arkansas, 38-24
September 28th--Loss at Oregon State Beavers, 17-44
October 5th--Loss - Oregon Ducks, 16-57
October 12th--Loss at Arizona State Sun Devils, 13-54
October 19th--Win - Charleston Southern Buccaneers, 43-10
October 26th--Loss - Arizona Wildcats, 20-44
November 2nd--Loss at UCLA Bruins, 23-45
November 9th--Loss at Washington Huskies, 7-59
November 16th--Win - California Golden Bears, 41-24
November 23rd--Loss - USC Trojans, 29-47
November 30th--Loss at Utah Utes, 17-24
There is one interesting note to the 2013 season. Boulder had severe flooding issues back in September and the Buffaloes had to cancel a game against the Fresno State Bulldogs. They replaced Fresno State with the Charleston Southern Buccaneers later in the season. It is tough to call a 4-8 season a success, but it was an improvement over the previous two seasons. It also was their first season under new head coach Mike MacIntyre, who had coached previously as the head coach of the San Jose State Spartans. One player that the Buffaloes will be missing next year is Paul Richardson, who set a single season school record with 1,343 receiving yards last year.
---
One player that the Buffaloes could be looking to step into those shoes left open by Richardson is Junior wide receiver Nelson Spruce. Last year he had 55 catches for 650 yards and 4 touchdowns. All of those numbers were second on the team behind Richardson. Spruce has good skills with the ball in his hands as well, having a kickoff return for a touchdown last year. Another player to look on defense would be Addison Gillam, a 6'3" 225 lb, linebacker. He had 119 tackles this past season and recorded 3 sacks as well. This was all as a freshman, which is quite noteworthy. He should continue to improve under a defensive minded head coach and lead his team for the future. Gillam is one of the best prospects on the team, but he will not be eligible for the NFL draft this season.
The schedule for the Colorado Buffaloes in 2014 is as follows:
August 29th--at Colorado State Rams at Sports Authority Field at Mile High Stadium in Denver, Colorado
September 6th--at Massachusetts Minutemen
September 13th--vs Arizona State Sun Devils
September 20th--vs Hawaii Rainbow Warriors
September 27th--at California Golden Bears
October 4th--vs Oregon State Beavers
October 18th--at USC Trojans
October 25th--vs UCLA Bruins
November 1st--vs Washington Huskies
November 8th--at Arizona Wildcats
November 22nd--at Oregon Ducks
November 29th--vs Utah Utes
This is not a particularly difficult schedule for the Buffaloes, but at the same time they have a lot of improving they need to do around the board. Clearly, the Buffaloes aren't even thinking about playing for a National Championship at this point, so they would definitely get put in the category of title pretender. They would be happy to have a successful winning season. The best seven chances for wins would be against Colorado State, Massachusetts, Hawaii, California, Oregon State, Arizona, and Utah. It's just rough with the Pacific 12 because so many of these teams are tough opponents. Plus, with a 9 game conference schedule, they are even less likely to throw some easy wins on the schedule to get them closer to a bowl game. Hopefully that is something that the Buffs can achieve this year as they continue to try to improve after a debacle in Boulder in recent years.