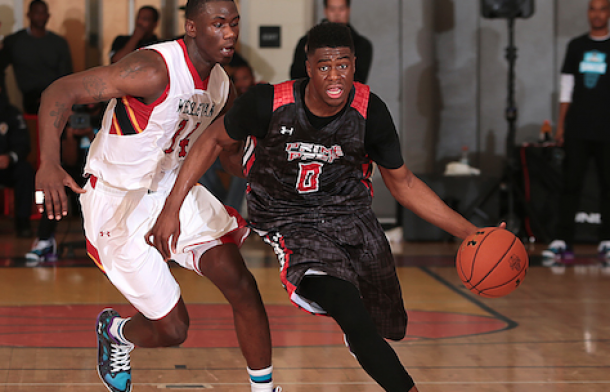 Emmanuel Mudiay, via family members, announced Monday that he is leaving behind his scholarship at SMU and will travel overseas to play professional basketball. The news was first reported by Yahoo! Sports. A source told ESPN that Mudiay's family informed SMU and coach Larry Brown of his intentions to play in Europe or Asia.
"I was excited about going to SMU and playing college basketball for Coach Brown and his staff and preparing for the NBA, but I was tired of seeing my mom struggle," Mudiay wrote in an announcement given to SI.com on Monday. "And after sitting down with Coach Brown and my family we decided that the best way for me to provide for my mom was to forgo college and pursue professional basketball opportunities."
There is speculation, however, that Mudiay's decision was based less on family and more on his NCAA eligibility, as he was apparently under investigation for breaking rules of amateurism.
"The NCAA is on him," a source told ESPN. "And he's worried."
Mudiay, a 6-5 guard with NBA potential, was set to play basketball for the upstart SMU Mustangs. Brown landed him in a small coup that saw the phenom choose the Texas school over the likes of Kentucky and Kansas. It was likely that Mudiay would have played only one year of college basketball before entering the NBA draft in 2015. His decision to move to overseas will put him on the same track, however.
Brown, in an official statement, reiterated that Mudiay's issue is not one of academics.
"This is not an academic issue, since he has been admitted to SMU, but rather a hardship issue," Brown wrote in the statement. "After talking to Emmanuel, I know he really wants to alleviate some of the challenges his family faces and recognizes that he has an opportunity to help them now."
Mudiay, ranked as the best freshman guard in the nation, was expected to be a part of SMU's rebuilding effort under Brown. Last season the Mustangs finished with a 27-10 record and narrowly missed out on an opportunity to play in the NCAA Tournament. Instead, the team accepted a bid to the NIT, where it lost in the championship game to Minnesota.
SMU faithful were excited about the upcoming season, but are now faced with a team lacking one of the best guards in the country.