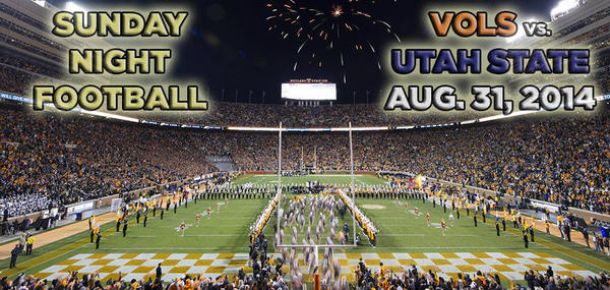 This game is over. Great game for Tennessee. 38-7 is the final score. Great start for a new era of Tennessee Vols football players. Thanks for tuning in tonight!
Bad news for Tennessee's punter, Utah State's player ran into him and he rolled his ankle hard. Tough to look.
Tennessee has all the subs in now. 6:30 left in the game but the game is on cruise now.
Tennessee's defense is rolling now. Johnson had a great swat which should have been an int. Vols got a sack on 3rd down and Utah State punts again.
Marlin Lane runs in the score and it's 38-7 Vols lead. 10:36 remaining in the 4th quarter.
A.J. Johnson with the interception at 11:30 left.
Tennessee had to punt, 12:30 left in the 4th quarter Aggies ball. 31-7 Vols lead it.
Tennessee put in some reserves and Utah State scores on 2 quick plays. 31-7 now for the Vols.
Jalen Hurd made another highlight reel move to score another TD. 2 jukes in a row and it's 31-0 UT.
Good passing offense tonight. Tennessee is rolling on offense. Running and passing both. End of the third and it's 24-0 on route to a blowout.
This Tennessee defense has been lights out tonight. Utah State has another drive end before it's close to scoring range. 3 minutes left in the third quarter. Tennessee's ball.
Von Pearson has a highlight reel play and it's 24-0 Vols lead. Great juke move to get into the end zone. 5:30 left in the 3rd quarter.
Tennessee is moving the ball well after the call stands but a penalty hurts the drive. UT is still looking good all game but a ton of penalties and mistakes are hurting their team.
Potential fumble but the call on the field was down by contact so the play stood. Could definitely help out UT a lot it looked like a fumble.
Tennessee is putting together a good drive. A penalty keeps it alive and UT is inside the 50 with 9:30 left in the third.
Utah State misses a 47 yard FG and it's still 17-0 Tennessee.
Great pass from Keeton and Utah State gets a big conversion on 3rd and 15.
Start of the second half. Aggies return the kickoff to the 36 yardline.
Utah State can't fo anything with the time left and it's halftime. 17-0 UT at the half. The Vols are dominating in every aspect of the game so far. This game could be a lot more out of hand if UT hadn't dropped so many passes.
More drops for UT. Tennessee's offense has done well but the errors like that are hurting them. Holding penalty and it's 4th down. Medley to try another field goal. This one was perfect and it's 17-0 for UT. 1:01 left in the second quarter.
A pair of drops for Howard but he catches the third for a first down.
Tennessee tried a nice trick play but it didn't work, pass interference on the next play helps to move the chains. Close to field goal range, at about the 30 yard line with 2 minutes left.
Cameron Sutton intercepts the ball and it's UT's ball again with 2:19 remaining in the half.
A false start ruins the attempted 4th down conversion and UT punts it. 3:09 left in the second quarter Utah State's ball on the 12.
The star LB for Utah State Tyler Fackell is down on the field for the second time tonight. Not good news for the Aggies, he's projected as a top pick for the NFL when he comes out. That would be a huge blow to their defense if he misses time.
Tennessee's front 4 is dominating Utah State right now. The Aggies can't get any type of running game going. 4th down and Aggies to punt. 6:16 left in the 2nd quarter.
Tennessee had a few decent plays but ends up not being able to convert and UT will punt again. 7:45 left in the second quarter.
Josh Malone is in the game now and has 1 catch with a few more directed his way.
UT's defense holds on a scramble from Keeton and Utah State has a quick 3 and out.
Not a pretty field goal attempt, still 14-0 UT.
Worley is sacked. The revamped oline without any returning starters is showing it's inxperience so far. Worley scrambles up to about the 25 and true freshmen Medley to attempt the FG.
Jordan Willaims comes up big and stops the run behind the line and it's Tennessee's ball on downs! About 13 minutes left in the second quarter Tennessee still up 14-0.
Utah State runs for it on third down and 1 but doesn't get it. Good stop for the Vols. 13:40 left. Utah State to go for it.
End of the 1st quarter. Utah State's ball. Tennessee leads it 14-0.
Good pass to Croom, but not enough to make up the 3rd and 17. Tennessee to punt.
A pair of false starts for UT's Oline pushes the Vols back 10 yards.
A few nice passes to Von Pearson and Tennessee is moving the chains.
Pass incomplete on 3rd down and Utah State has to punt. Lucky break for UT it was a dropped pass.
Pass interference on the first pass of the drive. Weak call.
Very quick 3 and out for Tennessee and it's another UT punt. 3 runs in a row with maybe picking up a yard total. JAlen Hurd has been receiving the carries so far.
Weird play where the ball falls out of Chuckie Keeton's hand and Utah State has to punt it. Cameron Sutton received the punt, UT's ball on the 35 7:32 in the first.
Timeout Utah State. 8:28 left in the first quarter.
TD Worley to TE Downs and it's now 14-0 UT. 9:09 in the 1st quarter.
Kickoff and Utah State and Todd Kelly jr, another true freshmen, picks up a fumble and it's UT ball inside the 10. What a start for the Vols and their true freshmen.
Pig Howard takes the sweep run and scores. Extra point is good and it's a 7-0 lead for the Vols. Early still in the 1q 9:23 remaining.
Huge pass to Smith and a 38 yard pickup brings it to the 7 yard line.
True freshmen Jalen Hurd picks up the hard fought first down and the Tennessee freshmen are looking good early.
Pass to true freshmen TE Ethan Wolfe for a first down.
So first few plays of the game and both teams defense look okay. Tennessee had the first possession and had a 3 and out. Utah State got an early first down but Keeton made a bad pass and they had to punt. Utah State's passing is looking good early on. UT needs to get the early game jitters out and tighten up on defense.
Alright it's just about kickoff time for the UT- Utah State Aggies game. This is the season opener for both teams. Will UT finally get over the hump of being a middle of the pack team? Can they make it to a bowl game? Or will Chuckie Keeton the dark horse heisman QB steal the show and make his debut of the season worth while? We're about to find out.