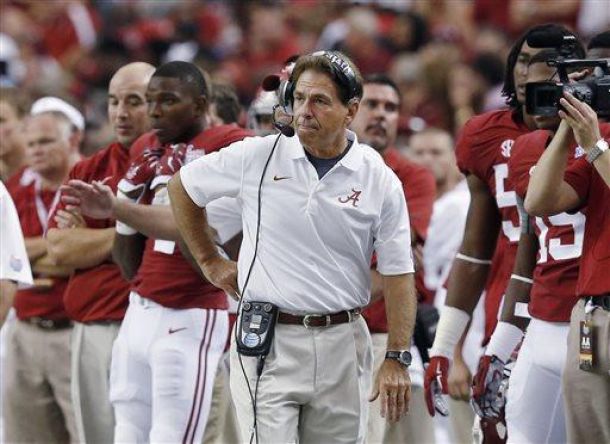 Ever since arriving at Alabama in 2007, Nick Saban has molded the Crimson Tide into a factory of success. Starting his eighth season at the helm of one of college football's most storied programs, Saban has an incredible 75-15 record.
In Saban's first year in Tuscaloosa, the Tide were still recovering from some sanctions due to academic infractions. Alabama went 7-6 on the field, but then the NCAA mandated that they vacate 21 wins going back to the Mike Shula regime.
Despite taking over a program nearly in shambles, Saban awoke a sleeping giant. The Crimson Tide have won at least 10 games since that inauspicious first year, including a 4-2 record in bowl games. He has led the Tide three national championship wins, as well as two Sugar Bowl berths.
Coming into every season, Alabama is at the top of the polls. Even in years like this one, when the Tide are without an experienced quarterback, it is still ultra-safe to pencil them in for at least ten wins and a serious contender for the SEC title.
But then the up-tempo offenses came along. The past few years the high-octane spread offenses have been developing, but they seem to have culminated. Offenses are spreading the field with track stars, chucking the pigskin around the yard, and hustling to the line after every play. The new strategy has forced defenses to substitute more, meaning their best players are not on the field as much. It also forces defenses to throw out most of their complex schemes because getting lined up correctly is hard enough.
In other words, defenses are having to square off against the best offenses in the country without their best on the field. Defensive coordinators do not have enough time to think clearly about what defense gives them the best chance to stop the offense, and it is for this reason that offensive numbers have skyrocketed. Offenses are running more plays, gaining more yards, and scoring more points than they did even a few years ago.
The times have changed, but Saban has refused to change to this point. It belies common sense to refuse to adapt to other strategies that have proven to be more efficient, but it is also not correct to second guess a guy with the track record that Saban has.
Saban has always been outspoken about up-tempo offenses, even laughably so. He has suggested various idiotic rule-changes to slow down the game, but thankfully he has been rebuffed. This author thinks that the reason he is so animated about this topic is that he does not want to stray away from his ideals, but that is beside the point.
While more and more teams are neglecting the running game and going to the air, Saban has stubbornly stuck with his preferred pro-style offense. He even brought in Lane Kiffin to be his new offensive coordinator after Doug Nussmeier opted to take his services to Michigan. That move took some guts considering Kiffin's recent futility, and the offense looked promising in the opening game against West Virginia.
However, the real question coming from the Crimson Tide is their defense. Even though Saban is regarded as a strong defensive-minded coach, his units have started to struggle recently against high-powered offenses.
While most teams in the SEC have stuck to their downhill running attacks, teams like Auburn and Texas A&M have given 'Bama fits. Texas A&M's Johnny Manziel torched the Crimson Tide defense in consecutive years, and even though Alabama came back to beat the Aggies last year, Manziel's 464 passing yards in that game are the most ever against a Nick Saban-coached defense.
In last year's Sugar Bowl against Oklahoma, Alabama single-handedly fueled the emergence of Trevor Knight. Largely unproven before the bowl game, Knight schooled the Tide through the air, amassing 348 passing yards and four touchdowns.
In the 2014 opener, even after months of preparation to stop Dana Holgorsen Air Raid attack, West Virginia quarterback Clint Trickett threw for 365 yards, which marks the third-most passing yards allowed by the Tide under Saban, according to ESPN Stats & Info.
Alabama's less-than-stellar performance against the Mountaineers also made it the first time since 2007 that the Tide defense has allowed at least 17 points in three straight games. Also, the 10 points that West Virginia scored in the first half on Saturday matched the combined number of points Alabama allowed in last year's four regular season non-conference games.
Alabama will still find a way to win most of the games it plays because Saban is arguably the best recruiter to ever pace the sidelines, but the recent success of opposing offenses shows the country that Nick Saban is indeed human.
He is not perfect, and if he continues to refuse change, he is going to continue to be dominated by up-tempo offenses.