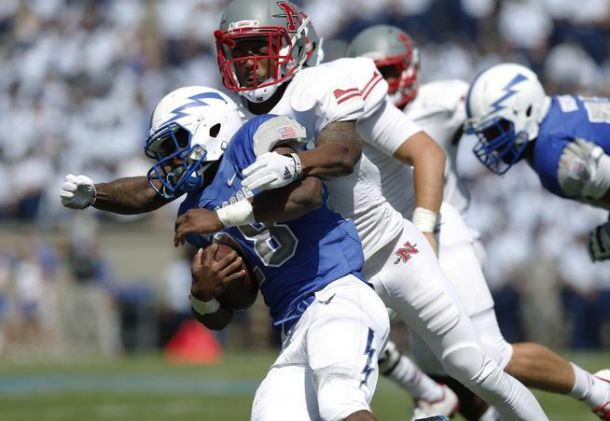 It is not often that a week two matchup in college football can have a direct impact on whether a team can make a bowl game, but that is precisely what we have as the Air Force Falcons travel to Laramie to take on the Wyoming Cowboys.
Both teams enter this pivotal week two game after defeating FCS opponents at home in week one.
Air Force welcomed Nicholls State to Colorado Springs, but were not able to assert their dominance until the second half. The Falcons did pull away to win 44-16, but it was a sloppy game for them, as they had 9 penalties for 109 yards. In addition, Nicholls State got into Air Force territory on four of their six drives in the first half. Another drive was stopped at the Nicholls State 48 yard line.
The Falcons racked up 539 yards rushing on the ground against Nicholls State. Jacobi Owens led the way with 233 yards. Three other players, Devin Rushing (55 yards), Kale Pearson (46 yards), and Garrett Brown (45 yards), ran for at least 45 yards. 12 different players registered a rush for Air Force and they all ran for at least 8 yards. That is to be expected from the Falcons' triple option offense.
For Wyoming, they took on the Montana Grizzlies, which is no easy task given that the Grizzlies are usually one of the better teams in the FCS each year. Montana took a 6-3 lead into halftime, but Wyoming came in the third quarter with 14 points to lead 17-6. Wyoming held on to win 17-12 after a Montana touchdown in the fourth quarter. It is worth nothing that the game was delayed for an hour and a half due to two separate lightning strikes.
Wyoming had a less than stellar game, especially through the air in Craig Bohl's first game as the Cowboys head coach. The Cowboys had only 92 yards passing from Colby Kirkegaard on 13 of 21 passing. Kirkegaard also had an interception and lost a fumble. Wyoming did rush for 209 yards with Shaun Wick's 22 carries for 134 yards and a touchdown leading the way. D.J. May added 96 yards and a touchdown.
What makes this game so important?
One team will move to 2-0 and the other will go to 1-1. Neither team has a particularly easy schedule, which is why this game is important. It needs to be said that just because one of these teams goes 2-0, it does not mean they will make a bowl game. It just makes the road easier for whichever team comes out on top.
Air Force's remaining schedule is as follows, at Georgia State, Boise State, Navy, at Utah State, New Mexico, at Army, at UNLV, Nevada, at San Diego State, Colorado State.
Air Force's winnable games would be Georgia State, New Mexico, Army, UNLV, Nevada, and Colorado State. A loss against Wyoming would mean Air Force needs to win five of the six games listed above. There is not a big margin of error for a team that went 2-10 last year.
Wyoming's remaining schedule is at Oregon, Florida Atlantic, at Michigan State, at Hawaii, San Jose State, at Colorado State, at Fresno State, Utah State, Boise State, at New Mexico.
Wyoming's winnable games would be versus Florida Atlantic, Hawaii, San Jose State, Colorado State, and New Mexico. A loss against Air Force and Wyoming would have ZERO margin for error. Of course, an upset could happen along the way for both teams and give them a buffer to allow for an extra loss.
What should we expect on Saturday night?
Running plays. Lots of running plays. This is to be expected with a triple option team, but Wyoming is a run-first team as well. In Wyoming's last game, the Cowboys had 46 rushing attempts compared to 21 passing attempts.
As for the winner of this game, it is tougher to tell. Las Vegas Air Force as the two-point road favorites as of this writing, but Wyoming was installed as the opening favorite at one-point. Regardless of who wins, it will be a confidence builder. If Air Force wins, it will match their win total from 2013. If Wyoming wins, it will be a 2-0 start for a team learning new offensive schemes.
Be sure to check back here on Saturday night for the recap of this game between Air Force and Wyoming.