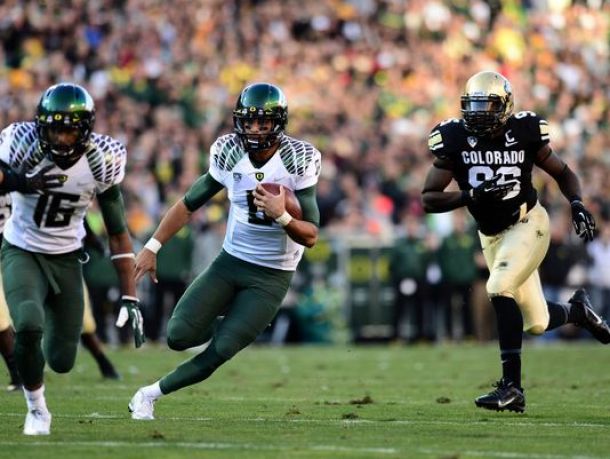 Game of the week
Michigan State at Oregon
This is a terrific matchup for the second week of the college season, pitting two top 10 teams and playoff favorites against each other, while also offering up the classic clash between potent a potent offensive juggernaut and a fearsome defense. Both teams got off to winning starts with routine victories over FCS opponents, they taught us little about where the teams are right now, though Michigan State will be concerned that some key players, QB Connor Cook and RB Jeremy Langford, picked up knocks. The Spartans play a physical, mistake costless style of game on both sides of the ball, with a little more risk taking and aggression encouraged on defense. They will be keen to make life very uncomfortable for Marcus Mariota, but his mobility combined with Oregon's high quality offensive line will make that hard to do. Oregon have struggled with this sort of matchup in recent seasons, but home advantage, a terrific quarterback, and the fact that their playmakers have yet to pick up the knocks that will slow them down later in the season, are all factors in the Ducks favor.
Other games to look
USC at Stanford
After enduring something of a nightmare week in the build up to the season opener, USC responded with a dream performance against a good Fresno State team. They ran a high tempo offense which showcased their offensive depth and the maturity of quarterback Cody Kessler, while also playing a physical style of defense that will stand them well in Pac 12 play. However as much as Fresno State are a decent team, they are not Stanford, and the Trojans will have to play with greater precision to return from Stanford with a win; the Bulldogs defense left some plays on the field against the Trojans, Stanford are unlikely to be so accommodating. The Cardinal opened the season with a 45-0 thumping of UC Davis, looking as physical as ever, and blessed with just enough athleticism on offense to give them a cutting edge.
Pittsburgh at Boston College
An old-fashioned smash mouth contest featuring two ACC teams that want to run the football. In their openers Boston College and Pitt combined for 265 yards through the air, and 747 yards on the ground, against Massachusetts and Delaware respectively.
Michigan at Notre Dame
It's the last match (for the foreseeable future) between two of college football's biggest rivals, and one of the strongest staples of the early season fixture list. Michigan are 2-1 against the Irish under Brady Hoke, with two thrilling victories at the Big House, and one error strewn defeat in South Bend, that the Wolverines felt they would have won, had they not been so careless with the football; they handed six turnovers to the Irish in a 13-6 defeat. Michigan looked excellent last week against Appalachian State; the run game was working, Devin Gardner looked crisp and Devin Funchess unstoppable, but Notre Dame are a far tougher proposition. The Irish started the season under a cloud, suffering a string of suspensions as a result of an academic scandal, however they were delighted to welcome back Everett Golson who injected a little extra dynamism into their offense. Golson accounted for five touchdowns in a 48-17 victory over Rice, two through the air and three on the ground. It's a pity this rivalry is taking a sabbatical, let's hope it goes out in style.
Match ups to look
BYU - Texas run defense
Last season the BYU Cougars trampled all over the Longhorns, rushing for 550 yards on their way to a 40-21 win in Provo, with quarterback Taysom Hill claiming 259 of those rushing yards himself. This year the Longhorns get the chance for revenge in Austin, but to do that they must find a way to stop Hill, who is a better player now than he was when the programs met a year ago.
J.T. Barrett - Bud Foster's defense
It was a case of job done for J.T. Barrett and the Buckeye offense against Navy, after struggling to establish themselves early in the contest, a couple of big plays let them pull away for a well earned victory. Urban Meyer kept things simple for his debutant quarterback, toning down the offensive ambition and risk taking, in favor of efficiency and conservatism. Barrett only threw the ball 15 times (completing 12), passing for two touchdowns and one interception, which came from a poor decision to throw over the top of a defender. However being efficient against the Navy defense is one thing, doing so again against a Bud Foster coached Virginia Tech defense, is another matter altogether, particularly for a quarterback making only his second competitive start. If Ohio State can't run over, through or around the Hokies front seven, they are going to need Barrett to take some shots downfield, against an aggressive defense with a talented, experienced and ball hawking secondary featuring Kendall Fuller and Brandon Facyson.