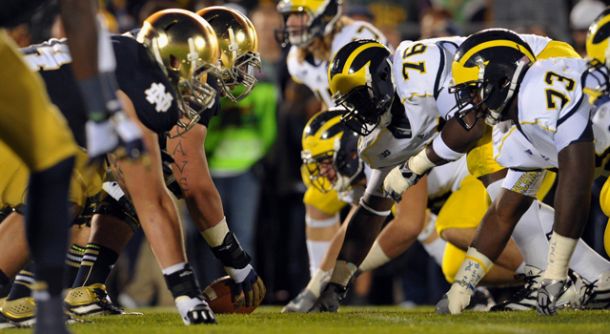 Michigan (1-0) @ #16 Notre Dame (1-0), 7:30 PM EST on NBC
Line: Notre Dame by 3.5
Over/Under: 56
For the 42nd and final time, the Michigan Wolverines and Notre Dame Fighting Irish will meet to put an end to a great rivalry between two storied programs. Many fans, a lot of which are not even fans of either team, are unhappy with the end, although the door is not closed for meetings in the future.
These two teams are arguably the two best teams in the history of college football. Notre Dame and Michigan are first and second in winning percentage, respectively, while Michigan is number one all time with 910 wins and ND is third with 874. Both teams also claim 11 National Championships, the most recent being Michigan in 1997.
The Michigan-ND rivalry dates back to 1887, the very first game in Notre Dame history. Michigan holds the series lead, 24-16-1, including winning six of the last eight contests. Last year's game was an exciting 41-30 Michigan win in Ann Arbor that Notre Dame would love to get back this season in South Bend.
Notre Dame
Notre Dame is coming off of a very strong performance, a 48-17 win over Rice, although the competition from Michigan will be a lot tougher. The entire team looked good, especially the returning Everett Golson.
But this scenario is different for Golson, who is 1-0 career vs. Michigan. Two years ago, Golson lead the Irish to a 13-6 victory that helped propel the undefeated season. This is his first big game back, as its primetime under the lights at Notre Dame Stadium. Ticket prices on secondary markets start around $300 per ticket. This is a big deal. Golson will need to capitalize on his performance last week and continue to build confidence.
Last year, gas was poured on the fire when Brian Kelly called the rivalry a "big regional game." Even though he took it back two days later as he called it a "great, historic rivalry." Brady Hoke then accused Notre Dame of "chickening out" of the series, and backed it up with a victory. This year, Notre Dame is not going to get caught up in the hype.
"I don't think I get into all the hype of it around here," Golson said. "But at the same time, you have to take care of business and prepare. Michigan is a great football team, so it's going to be a tough one. But we'll be ready for it."
Michigan
The Wolverines, much like the Irish, are coming off a win in which they were heavy favorites. Appalachian State was not a test like it was a few years ago, but it was a revenge game and also gave Brady Hoke a chance to get a look at some in-game situations.
One thing that Hoke learned is that wide receiver Devin Funchess could be the next great receiver at Michigan. He and quarterback Devin Gardner hooked up for three first half touchdowns last week and looks to add to that total this week. Funchess had 7 total catches for 95 yards. Funchess got high praise from Gardner, saying, "he (Funchess) can probably be the best receiver to ever play here."
Gardner, who has been a starter at Michigan since 2013, completed 13 of 14 for 173 yards and three touchdowns. That total figures to go up, not just because he will play deeper into the game, but also due to the depleted secondary for Notre Dame.
ND took a big blow when safety Austin Collinsworth was injured and as a result will now miss at least another 1-3 weeks. Gardner should have a lot of confidence in his entire team to take it to the Irish defense that is weaker than last year's. He possesses some rushing ability when he needs it, so taking the ball himself will always be an option.
Gardner is not the only rushing threat, as Derrick Green rushed for 170 yards with a touchdown last week, and De'Veon Smith rushed for 115 yards and two touchdowns. Both had rushes of over 60 yards in route to a team total of 350 yards on the ground.
The defense is just as good, as it only allowed 280 yards of App State offense. Cornerback Raymon Taylor is one of the key players to look. Last season he lead the team in tackles with 86 and was second with four interceptions. Many thought he may not even start, but now Brady Hoke is not sure he can keep him out of the lineup, saying he "really played his best football game – maybe." He sounds hesitant, but there is no denying the talent level.
Speaking of talent on the Wolverine defense, freshman safety Jabrill Peppers is loaded with talent and was considered one of the best recruits in the nation. He may not play a whole lot this week after an ankle injury last week. Hoke said Peppers would be "ready to play." Greg Mattison, the country's fourth highest paid assistant, said Michigan will not baby Peppers. "Jabrill is Jabrill. He's part of the Michigan defense, so let's go."
Overview
If the Michigan State at Oregon game is the Game of the Week, this is 1B. This is more than just a game for everyone involved – players, coaches, athletic directors, even fans. This is to jumpstart a season, and for bragging rights until at least 2020. Whether it's a "regional rivalry" or a national rivalry, these two teams simply do not get along, and remains one of the best in football.
The key will come down to Notre Dame's offense. If Everett Golson cannot get anything going, Brian Kelly has proven over the years he has no problem switching QBs. Malik Zaire looks more than ready if he is called on. Notre Dame also has three very talented running backs in Greg Bryant, Tarean Folston and Cam McDaniel. And let us not forget: Golson is more than capable of running.
Michigan should be able to score points on a defense that does not have a ton of experience. Without Ishaq Williams, KeiVarae Russell and Austin Collinsworth, the Gardner to Funchess combination should be more than up to the task of scoring points.
Although the over/under stands at 56, it should be over that mark due to the lack of depth on the ND defense and the power of the ND offense. Both teams should be into the 30 point territory and possibly break the 40 point mark.
When this book closes on Saturday night, and the final chapter is written, Notre Dame will be standing tall.
Prediction
Michigan: 34
Notre Dame: 38