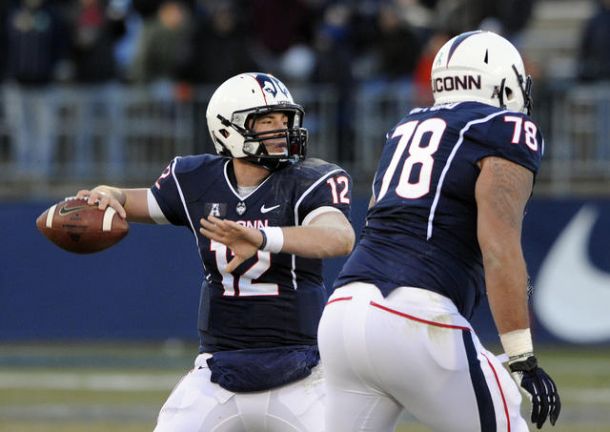 Connecticut will be looking for their first win of the season on Saturday against FCS Stony Brook, but they will not have their starting quarterback there to help. Head coach Bob Diaco said that Casey Cochran will miss the game due to an "upper-body injury." Diaco did not go into more detail of what exactly the injury consisted of.
The injury could be related to Cochran's exit against BYU last week. He left in the third quarter after and was not seen for the rest of the game. There is no definitive conclusion that last week's injury is related to him missing this week's game.
He finished the game on 17 of 31 passing with 171 yards and an interception in the 35-10 loss to the Cougars. He was replaced by Chandler Whitmer who went 8 of 17 with 113 yards.
Diaco also said that Tim Boyle will be the backup in Saturday's game versus Stony Brook. If possible, Diaco would like to redshirt Boyle, which means he will not see a snap during the game or his redshirt for 2014 will be gone.