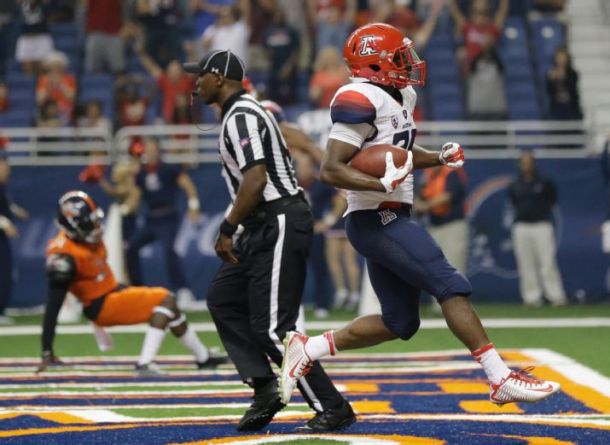 Arizona did not have the same offensive explosion they had last week against UNLV, but they had enough to fend off the Texas-San Antonio Roadrunners 26-23 in a hotly contested game.
The game did start quite well for Arizona and it looked like they might top 700 yards again based on the first play. The first play from scrimmage saw Anu Solomon find Cayleb Jones do the rest with his feet and a stiff arm for an 85 yard touchdown pass.
UTSA was unable to move the ball on their first drive and punted away to Nate Phillips. Phillips took the ball into UTSA territory, but a penalty brought the Wildcats back. Arizona was still able to carve out a nice drive, which ended in a 38 yard field goal from Casey Skowron. Within four minutes, Arizona led 10-0 and looked well on their way to an easy win.
However, UTSA clamped down on defense on Arizona's next drive before sustaining one of their own. The Roadrunners went 85 yards on 11 plays in 5:01 with the drive capped off by Tucker Carter's 10 yard touchdown pass to David Morgan. Arizona responded with another field goal from Skowron, this one from 23 yards out to extend their lead to 13-7.
UTSA would strike again on the ensuing drive. A pass interference on 3rd and 9 by Arizona's Jarvis McCall extended UTSA's drive, which culminated in Kam Jones' 18 yard touchdown run.
Later in the second quarter, UTSA's punt was down at the 3 yard line after the returner did not fair catch the ball near the 10 yard line. This caused Arizona to be backed up and eventually led to Anu Solomon stepping out of the end zone for a safety and the Roadrunners led 16-13. The Wildcats responded on their next drive with a touchdown to reclaim the lead thanks to Nick Wilson's 2 yard touchdown.
Arizona added two field goals from 44 and 26 yards out, respectively, to make it a 26-16 lead heading into the fourth quarter. That is when things got really interesting.
UTSA drove down to the Arizona 8 yard line and attempted a 25 yard field goal. Sean Ianno had a chance from the right hash but his ball sailed over the right goal post and was called no good. The missed field goal would end up being the difference.
David Glasco ran a touchdown in from 3 yards out to cut the lead to 26-23, but that would prove to be the final score. Tucker Carter's only real mistake came on the Roadrunners' penultimate drive when he tried to do a flip pass, but the ball was acrobatically intercepted by the Wildcats Jared Tevis.
It was a hard fought, but deserved win for Arizona. Anu Solomon went 17 of 32 for 231 yards and 1 touchdown. Nick Wilson ran wild with 174 yards and 1 touchdown on 30 carries. Cayleb Jones had 143 yards receiving and 1 touchdown on 4 catches.
Tucker Carter had another solid performance, except for that late interception. He went 22 of 33 for 228 yards with one touchdown and an interception. David Morgan led the team in receiving with 76 and a touchdown on 5 catches. The leading rusher was David Glasco with 35 yards and a touchdown on 12 carries. Jarveon Williams had 7 carries for 34 yards.
Arizona will face Nevada next Saturday at home in their final non-conference game. Texas-San Antonio will face another "Power 5" team next week on the road in Stillwater in the form of the Oklahoma State Cowboys.