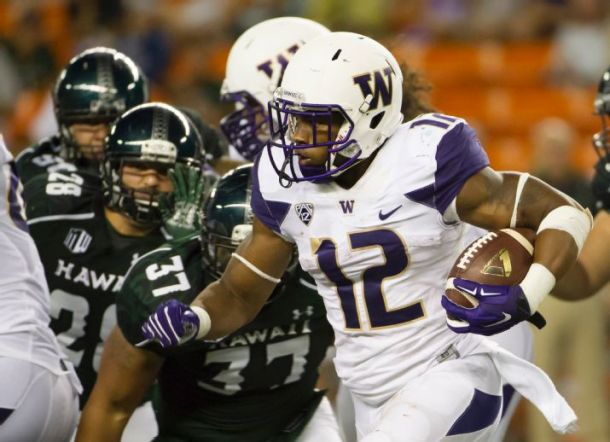 Eastern Washington Eagles (2-0) @ Washington Huskies (1-0)
Husky Stadium, Seattle, WA
September 6, 2014
Kickoff: 3:05 pm ET
TV: Pac-12 Network
---
Series History
Second Meeting All-Time (Washington Leads 1-0)
---
2014 Team Statistics:
Washington (1-0)
Points Scored: 17 (17.0 per game)
Points Allowed: 16 (16.0 per game)
Offense
Passing Yards: 162 (162.0 per game)
Rushing Yards: 174 (174.0 per game)
Play Calling
Pass: 35.1%
Rush: 64.9%
Defense
Passing Yards Allowed: 207 (207.0 per game)
Rushing Yards Allowed: 217 (217.0 per game)
---
Eastern Washington (2-0)
Points Scored: 97 (43.5 per game)
Points Allowed: 44 (22.0 per game)
Offense
Passing Yards: 725 (362.5 per game)
Rushing Yards: 482 (241.0 per game)
Play Calling
Pass: 52.7%
Rush: 47.3 %
Defense
Passing Yards Allowed: 466 (233.0 per game)
Rushing Yards Allowed: 342 (171.0 per game)
To say that the season didn't not get off to the start which was expected would be an understatement after the Washington Huskies escaped from Hawaii with a narrow 17-16 win. The point total was the fewest that Washington had scored since a 52-17 loss on October 20, 2012. Ironically, the last time they scored that many points in a win also came during the 2012 season when the Huskies beat #8 Stanford 17-13 at CenturyLink Field.
This game though did not feel like a victory for the Husky faithful. Coming into the season, the pundits were high on the Husky defense saying that it was the better all-around of the two units. That top-notch defense did not show up on Saturday as the Huskies allowed 424 yards total and 217 yards rushing from the Warriors of Hawaii. Sure they came up big in key situations but overall the defensive unit looked rather poor.
Of course the offense did not help, they were only able to generate 336 yards of offense including 162 yards through the air, a majority of that came on the 91-yard pass to John Ross. Sophomore quarterback Jeff Lindquist struggled in his first career start as he filled in for the suspended Cyler Miles. Miles will get the start on Saturday against Eastern Washington.
All was not gloomy though for the Huskies as there was one bright spot for the team; freshman Lavon Coleman turned out to be the most consistent back for the Dawgs and he earned the majority of carries. Coleman finished the game with 17 carriers for 78 yards. He was the feature back on the Huskies final game-clinching drive with six carriers for 37 yards including three first-down runs to help run out the clock. Coleman will continue to rotate the back-up role with Jesse Callier and Deontae Cooper for now but if it is any consolation, Coleman's name is listed first of the three on the depth chart.
The Huskies turn their sights to FCS juggernaut Eastern Washington this weekend. Eastern comes into the game with a 2-0 record with big offensive displays in their first two games of the year. The Eagles are averaging just over 600 yards of offense per game after their first two games of 2014. To give you an even better idea of how efficient the Eastern offense is, they are averaging 7.1 yards per play.
A good offensive comparison to a Pac-12 school would be someone like Oregon. They like to spread the defense out by playing with a bunch of 4 and 5-wide receiver sets. The thing that makes them the most dangerous is quarterback Vernon Adams Jr. He has a cannon of a throwing arm but also has speed to hurt you on the ground. Adams Jr is converting on 68.4% of his passes so far this season which is a slight upgrade from the 65.6% completion rate from 2013.
Offense has been the calling call for Eastern for much of recent history. Since 2009, Eastern quarterbacks have combined to throw for 21,238 yards (317.0 per game). In that same time frame, the football team has averaged 6.54 yards per play (30,623 yards in 4,682 plays).
The spread formation will force Washington to get creative in putting Shaq Thompson and Travis Feeney on the field. Defenses normally send out a nickel or dime type defense that is loaded with cornerbacks and safeties to defend against that type of offense but in the Huskies case, the defensive backfield is the weak point of their defense. Since Shaq Thompson was a converted safety, we may see him drop back into a rover type position leaving John Timu and Feeney as the only linebackers in a pseudo 4-2-5 defensive look.
For the Huskies to win this game, they will need to establish their run game early and maintain it throughout the entire game. They need to dictate the pace of action. If Eastern is able to push the tempo, it will increase the chances of Cyler Miles making a critical mistake that could cost Washington the game. Washington will be more likely to win if both teams stay under 30 points, anything higher than that and the odds shift to the visiting Eagles.
Projected Starting Lineup:
| | | | | | |
| --- | --- | --- | --- | --- | --- |
| UW Offense | Name | Height | Weight | Year | 2014 Stats |
| QB | #10 Cyler Miles | 6'4 | 225 | Soph | |
| RB | #12 Dwayne Washington | 6'2 | 219 | Soph | 12 car, 38 yds |
| WR | #16 Marvin Hall | 5'10 | 188 | Jr | |
| WR | #4 Jaydon Mickens | 5'11 | 174 | Jr | 1 rec, 16 yds; 2 car, 7 yds |
| WR | #19 DiAndre Campbell | 6'2 | 206 | Sr | 1 rec, 8 yds |
| TE | #82 Joshua Perkins | 6'4 | 227 | Jr | |
| LT | #72 Micah Hatchie | 6'5 | 308 | Sr | |
| LG | #76 Dexter Charles | 6'5 | 311 | Jr | |
| C | #64 Colin Tanigawa | 6'3 | 292 | Sr | |
| RG | #70 James Atoe | 6'7 | 381 | Sr | |
| RT | #79 Coleman Shelton | 6'4 | 281 | Fr-RS | |
| UW Defense | Name | Height | Weight | Year | 2014 Stats |
| DE | #93 Andrew Hudson | 6'3 | 246 | Sr | 9 tackles |
| DT | #80 Evan Hudson | 6'6 | 273 | Sr | 3 tackles |
| NT | #55 Danny Shelton | 6'2 | 339 | Sr | 12 tackles, 2 sacks |
| DE/LB | #8 Hau'oli Kikaha | 6'3 | 246 | Sr | 5 tackles, 1 sack |
| LB | #10 John Timu | 6'1 | 246 | Sr | 9 tackles |
| LB | #41 Travis Feeney | 6'4 | 218 | Jr | 4 tackles |
| LB/ROV | #7 Shaq Thompson | 6'1 | 228 | Jr | 4 tackles |
| CB | #21 Marcus Peters | 6'0 | 190 | Jr | 7 tackles |
| CB | #6 Jermaine Kelly | 6'1 | 190 | Fr-RS | 4 tackles |
| S | #20 Kevin King | 6'3 | 183 | Soph | 5 tackles |
| S | #32 Budda Baker | 5'10 | 173 | Fr | 7 tackles |
| EWU Offense | Player | Height | Weight | Year | 2014 Stats |
| QB | #3 Vernon Adams Jr | 6'0 | 200 | Jr | 54-79 for 672 yds, 9 TD |
| RB | #22 Quincy Forte | 5'11 | 200 | Sr | 23 car, 152 yds |
| WR | #10 Cooper Kupp | 6'2 | 195 | Soph | 7 rec, 62 yds, TD |
| WR | #23 Blair Bomber | 5'8 | 170 | Sr | 7 rec, 61 yds, 2 TD |
| WR | #1 Shaq Hill | 5'10 | 180 | Jr | 10 rec, 193 yds, TD |
| TE | #9 Zach Wimberly | 6'2 | 240 | Soph | 1 car, 1 yd, TD |
| LT | #78 Clay DeBord | 6'6 | 305 | Jr | |
| LG | #72 Aaron Neary | 6'4 | 300 | Jr | |
| C | #59 Jase Butorac | 6'3 | 290 | Sr | |
| RG | #66 Thomas Gomez | 6'3 | 295 | Jr | |
| RT | #65 Jake Rodgers | 6'6 | 315 | Sr | |
| EWU Defense | Player | Height | Weight | Year | 2014 Stats |
| DE | #40 Zachary Johnson | 6'4 | 250 | Sr | 2 tackles |
| DT | #57 Dylan Zylstra | 6'4 | 285 | Sr | 9 tackles |
| NT | #94 Matthew Sommer | 6'5 | 310 | Soph | 2 tackles |
| DE/LB | #91 Samson Ebukam | 6'3 | 240 | Soph | 9 tackles, 2 sacks |
| SLB | #39 Ronnie Hamlin | 6'2 | 235 | Sr | 6 tackles |
| MLB | #47 Cody McCarthy | 6'1 | 230 | Sr | 14 tackles |
| WLB | #49 Miquiyah Zamora | 6'1 | 220 | Soph | 21 tackles |
| CB | #17 Jake Hoffman | 6'0 | 170 | Fr | 7 tackles |
| CB | #21 Rashad Wadood | 5'11 | 185 | Jr | 4 tackles, INT |
| S | #4 Todd Raynes | 6'2 | 210 | Jr | 10 tackles |
| S | #7 Tevin McDonald | 5'11 | 200 | Sr | 10 tackles, INT |
Prediction: Washington Huskies 31, Eastern Washington Eagles 21