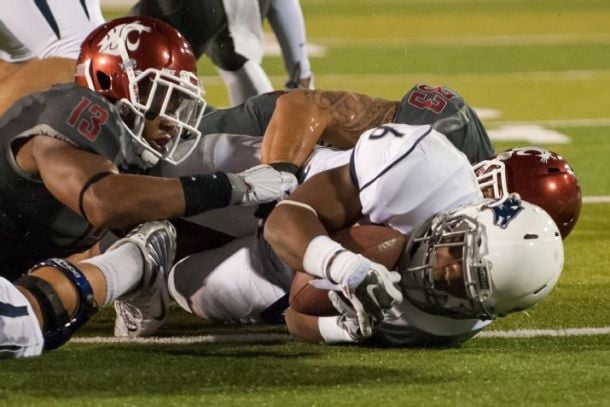 Offensive fireworks were expected as the Washington State Cougars traveled to Reno, Nevada to take on the Nevada Wolfpack, but what was on the field was defensive battle. In the end, Nevada shut down the high powered Washington State Cougars 24-13 to send them to a shocking 0-2 start on Friday evening.
Washington State was able to move the ball on the Nevada defense in the first quarter, but had no points to show for it. Connor Halliday pass on third and 7 was intercepted by Nevada's Kendall Johnson and return to the Cougars' 12 yard line. Four plays later, Don Jackson ran the ball in from a yard out to give Nevada the 7-0 lead.
Nevada started their first drive of the second quarter backed up in their own territory at the 9 yard line. A consistent ground and pound by Nevada broke loose when quarterback Cody Fajardo ran for 55 yards and was tackled at the Washington State 8 yard line. The Cougars defense stood tall until they were called for a defensive pass interference penalty and gave Nevada a new set of downs. James Butler ran it in for Nevada for a one yard touchdown and the Wolfpack had a shocking 14-0 lead early in the second quarter.
Halliday would be intercepted for a second time on the next drive, this time by Duran Workman. Fortunately for the Cougars, Nevada was unable to come away with any points. Halliday and the Cougars responded with their first touchdown of the game when Halliday found Vince Mayle for a 13 yard touchdown to make it a 14-7 Nevada lead. Washington State added a 25 yard field goal, courtesy of Erik Powell to make it a 14-10 game at halftime.
Washington State started with the ball to start the second half and once again drove into Nevada territory. However, Powell missed a 37 yard field goal to the right and the game remained at 14-10 in the early part of the third quarter. Two drives later, the Cougars got back down to virtually the same spot and the same outcome occurred. Powell missed wide right from 38 yards out.
After Powell's second miss of the game, Nevada would embark on a long 14 play drive. Fajardo's 22 yard pass completion to Hasaan Henderson on third and 11 was crucial to keeping the drive alive. Later in the drive, the Wolfpack went for it on fourth and 1 at the Washington State and converted on Don Jackson's two yard run. Jackson punctuated the drive with the one yard touchdown run a play later. Nevada led 21-10 with a little over 12 minutes left.
Washington State finally got some points in the second half on their next drive. Three Halliday passes and two runs from Theron West got the Cougars down to the Nevada 19 yard line, but they eventually settled for a 38 yard field goal attempt. Mike Leach decided he had enough of Erik Powell and brought on Quentin Breshears for the field goal attempt, which was good to make it 21-13.
Nevada came back down the field themselves and burned 5 minutes off the clock. More importantly, they got a 40 yard field goal from Brent Zuzo to make it a 24-13 game and forcing Washington State to need two scores to even tie the game.
Washington State got the ball back after the field goal and faced a fourth and three from their own 41 yard line. Going completely against Mike Leach's philosophy, they tried to run the ball to get the first down, but Jamal Morrow came up a yard short and Nevada got the ball back to effectively end the game.
Connor Halliday had a rough game for the Cougars at quarterback. He went 38 of 57 for 390 yards and 1 touchdown. However, he had those two interceptions was constantly hit early in the first quarter.
Jamal Morrow led the Cougars with 32 yards rushing. Halliday spread the ball around evenly to his receivers. Isiah Myers finished with 9 catches for 102 yards. Vince Mayle had 8 catches for 87 yards and the lone Cougars touchdown. Robert Lewis had 8 catches for 81 yards while Dom Williams had 5 catches for 77 yards.
Cody Fajardo had a poor game passing, according to the statistics. He went 12 of 21 for 110 yards, but on Nevada's penultimate drive in the fourth quarter, he completed two passes on third down to set up Brent Zuzo for his 40 yard field goal. Fajardo had a big game rushing the ball with 100 yards on 16 carries.
Don Jackson contributed 69 yards and 2 touchdown on the ground. James Butler finished with 55 yards and 1 touchdown on 14 carries. Hasaan Henderson was easily the leading receiver for the Wolfpack with 6 catches for 77 yards. By comparison, Richy Turner was the second leading receiver with 2 catches for 12 yards.
Washington State fell to a shocking 0-2 record to start the season. Many people probably had the Cougars with the opposite record, or 1-1 at worst. They will face FCS Portland State next week, looking to fix their problems on both sides of the ball before they face the Oregon Ducks on September 20.
Nevada is off to a 2-0 start and will travel to face another Pac 12 team next week in the Arizona Wildcats. The Wildcats just got done surviving a very game UTSA squad on Thursday night. If Arizona is not careful, they could find themselves as another upset victim to Nevada on September 13.