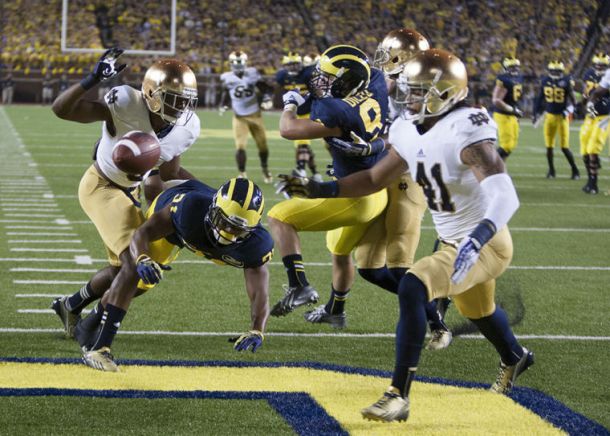 Actually, 15 yard penalty on Max Redfield negates TD. Final score will be 31-0.
First time in this series that Michigan has been shutout.
Every time Michigan thinks of ND series, they can think of that Pick 6!!!
Q4 (:00): Elijah Shoemate picks off Gardner, runs it back to the house. TOUCHDOWN NOTRE DAME!!!
Q4 (:15): Gardner 12 yard pass complete to Norfleet.
Nice to see Notre Dame get the last laugh in this series.
Q4 (:32): Golson will be starter for next two years, but Zaire will be fantastic once he gets his chance.
Q4 (1:14): Nice run by Malik Zaire on a QB draw.
Q4 (1:20): If score stays the same, it will be Brady Hoke's largest defeat in his tenure at Michigan.
Q4 (2:40): VanGorder elated on the sidelines after he sent the house on 4th down.
Q4 (2:40): Gardner swarmed by slew of ND defenders. Sacked, turns ball over on downs.
Q4 (3:20): Michigan rush on 3rd and 9 stopped for minimal gain.
Q4 (4:00): ND is going to need a miraculous stand to keep shutout intact.
Q4 (5:00): De'Veon Smith runs for a first down.
Q4 (6:00): Gardner pass tipped at the line, but caught for a first down.
Q4 (7:00): Notre Dame has over 50 high school athletes in the stands, all potential recruits. A win is the best thing to make recruiting visits a success.
Q4 (7:42): Golson incomplete pass will bring up 4th down. All starters still in there for ND.
Q4 (9:25): Gardner incomplete pass. 4th and 5 will force a punt.
Q4 (9:45): Funchess a little gimpy after 2 yard catch,
Q4 (10:30): Michigan offensive line overmatched by ND front 7. Michigan can't run the ball or protect the QB.
Q4 (11:59): Gardner hits Funchess for 6 yards. Michigan has three turnovers and a punt in their four possessions this half.
Q4 (12:06): Brindza field goal good. ND leads 31-0.
Q4 (12:15): Intentional Grounding on Golson. 4th down.
Q4 (12:45): Triple option, Golson pitches to McDaniel for 4 yards.
Q4 (12:56): Golson incomplete pass. Bounced it to the receiver, not very good pass.
Q4 (14:10): INTERCEPTION by Cody Riggs. ND starts drive at 26 yard line going in.
Q4 (14:15): Nice punt by Brindza. Fair catch at 20 yard line.
END OF 3RD QUARTER. ND LEADS 28-0.
Q3 (:15): Greg Bryant rushes twice for 9 yards.
Q3 (1:00): Gardner fumbles while scrambling. ND recovers.
Q3 (1:40): Gardner deep pass to Funchess. His size is a matchup nightmare.
Q3 (2:56): Never in this series has Michigan been shut out.
Q3 (3:02): Brindza extra point makes it 28-0.
Q3 (3:05): Middle screen from Golson to Carlisle results in a TOUCHDOWN!!!
Q3 (4:07): Michigan sends the house on 3rd and 4. Golson rolls right and finds Fuller for a first down.
Q3 (4:47): Golson quick screen to Fuller gains 8 yards.
Q3 (5:45): Golson threads needle along sideline. Pass complete to Carlisle for 21 yards and a first down. 15 yards tacked on because of roughing the passer.
Q3 (6:48): Gardner throws incomplete pass facing heavy pass rush.
Q3 (7:20): Gardner completes short pass to Funchess. 3rd and 8.
Q3 (8:00): Irish defense really stifling right now.
Q3 (8:44): Michigan goes quickly to line, gets first down on short run.
Q3 (9:04): Gardner gains 9 yards on zone read keeper.
Q3 (10:10): Gardner completes 3rd down pass to Funchess for first down despite pass rush. Gardner got hit after throw.
Q3 (11:10): ND hasn't missed a beat with new defensive coordinator. They're picking up VanGorder's schemes well.
Q3 (11:21): Golson has one of the strongest arms in all of college football, but he has a tendency to throw the ball a bit too hard sometimes.
Q3 (11:21): Brindza downs punt inside 1 yard line. Impressive job that he can kick and punt.
Q3 (11:31): Incomplete pass on 3rd and 14. Golson threw that one a bit too hard for such a short pass.
Q3 (11:50): False start ND.
Golson 169 yards and 2 TDs through the air.
Notre Dame leads 21-0 at half.
Q2 (:00): Gardner incompletion ends the half.
Q2 (:29): Michigan needs to just kneel and run out the clock. ND defense too good to score so quickly.
Q2 (:41): Extra point by Brindza makes it 21-0.
Q2 (:41): Acrobatic catch by Fuller in the end zone for a TOUCHDOWN!!! Terrific pass by Golson.
Q2 (:41): Actually, play is under review. Koyack might not have gotten his feet in.
Q2 (:41): Golson escapes pass rush and completes pass to Ben Koyack for a first down.
Q2 (:59): Golson completes two passes in a row for first downs.
Q2 (1:15): Love the way Golson has grown since his freshman year. Smart decision to throw that one away with nobody open. Might have tried to force a throw two years ago.
Q2 (1:24): Tremendous return by Cody Riggs. I think ND has found a punt returner for this season.
Q2 (2:05): Draw play on 3rd and 20 gets 10 yards. Punt upcoming.
Q2 (3:00): Gardner recovers his own fumbles but loses 17 yards in the process. 3rd and 20.
Q2 (3:45): Sweep by Norfleet nets 7 yds for Michigan.
Q2 (3:58): Brindza extra point makes it 14-0.
Q2 (3:58): After two failed runs, Golson rolls left, finds Carlisle for a TOUCHDOWN.
Q2 (5:14): Ball brought back to the 3 yard line. Terrible spot, especially after review. Robinson's knee never touched.
Q2 (5:19): Last play under review to see if Robinson got in.
Q2 (5:29): Golson rifles a bullet down the seam to Robinson. Ball on 1 yard line.
Q2 (5:38): Quick slant to Fuller for 12 yards and a first down on 4th and 3.
Q2 (5:42): Brian Kelly decides to go for it on 4th and 3.
Q2 (6:10): ND offense is rolling!!!
END OF FIRST QUARTER. ND 7, MICHIGAN 0.
Q1 (:30): Funchess is deceptively fast. At 235 pounds he's a matchup nightmare.
Q1 (:35): Gardner to Funchess for 35 yards. Nice run after catch.
Q1 (1:00): De'Veon Smith runs for a first down. 10 yds on the rush for the backup RB.
Q1 (1:52): Brindza extra point makes it 7-0 Notre Dame.
Q1 (1:55): McDaniel hits pay dirt. TOUCHDOWN NOTRE DAME!!! 1 yard run.
Q1 (2:22): Well-excecuted fade route to 6'4" Corey Robinson. Pass interference in end zone, ball at the 2. Nice pass by Golson.
Q1 (2:27): Another timeout by Notre Dame. Inexcusable for them to go so slow.
Q1 (2:41): Golson throws to Amir Carlisle for 14 yds. First down ND
Q1 (3:42): Golson throws deep left to Chris Brown, obvious Pass Interference. First down ND.
Q1 (4:05): Great play fake by Golson. Play action pass out of the Pistol over the middle for solid chunk of yards.
Q1 (4:30): McDaniel runs for a first down.
Q1 (5:06): Shifty run by Cam McDaniel for 3 yds
Q1 (5:35): Field goal MISSED wide right.
Q1 (5:59): Great tackle by Smith results in field goal attempt
Q1 (7:39): Outstanding touch pass by Devin Gardner goes for 8 yds
Q1 (8:00): Gutsy call by Hoke to go for it on 4th, play action pass goes for 3 yds and a first down.
Q1 (9:00): Great stand for the ND defense on third-and-one.
Q1 (10:11): Jaylon Smith is an animal. Chased down that WR screen from his linebacker spot.
Q1 (12:37): Irish need to go faster!!!
Q1 (12:45): If not for the bobble, Fuller might still be running.
Q1 (13:43): Three consecutive runs gives the Irish their first first down of the game.
Q1 (14:56): No excuse for having to call a time out before you run a play.
Q1 (15:00): Bad decision to bring that one out. With the ball going to the 25 after a touchback, I don't see why anyone should bring one out of the end zone.
7:40 P.M ET: Brady Hoke needs a victory. His seat will get hotter with every Michigan loss.
7:34 P.M ET: Both defensive coordinators have NFL backgrounds. Interesting to see how they try to stop the up-tempo spread attack.
7:32 P.M ET: It's a shame that this rivalry is coming to an end.
7:12 P.M ET: Welcome in to VAVEL USA's live coverage of NCAA Football. I am Matthew Evans and I'll be temporarily filling in for Heath.
6:26 P.M. EST: We think this one is going to be an exciting high-scoring affair, with Notre Dame coming out on top. If you can't look the game, follow the game live on VAVEL USA.
6:25 P.M. EST: Expect the Notre Dame offense to go a little faster on offense in an attempt to catch Michigan off guard and keep them off balance.
6:24 P.M. EST: Both defenses have a history of struggling, and I don't think tonight is going to be any different. Notre Dame's defense is undermanned thanks to the most recent academic investigation, and the Irish offense is potent enough to score points against any defense.
6:23 P.M. EST: The Michigan offense was as efficient as ever, racking up 560 yards even though they had their second and third teamers when they got out to such a big lead.
6:22 P.M. EST: Former star running back Derrick Henry was a beast on the ground for the Wolverines, rushing for 170 yards on only 15 carries and a touchdown. De'Veon Smith also tacked on 115 yards and two touchdowns.
6:21 P.M. EST: For Michigan, their first game with new offensive coordinator Doug Nussmeier was a huge success. Quarterback Devin Gardner completed 13-of-14 passes for 173 yards and three touchdowns, all of them to star wide receiver Devin Funchess.
6:20 P.M. EST: The running game was solid as well thanks to the Irish's talented trio of Greg Bryant, Cam McDaniel, and Taurean Foster. Those three combined for 182 yards and a touchdown. The carries were distributed evenly among the three as well, meaning they are all going to be fresh whenever coach Brian Kelly calls on them.
6:19 P.M. EST: In that game, he threw for 295 yards and two touchdowns while also adding 3 touchdowns on the ground. After a rough start, he was as crisp as ever. He controlled the game, made the right reads, and was a dominant force on the offensive side of the ball.
6:18 P.M. EST: On the field, Everett Golson is back for his second year as the Notre Dame starting quarterback. He missed the entire 2013 season due to an academic suspension for poor academic judgment, but he came back in dramatic fashion in the team's season opener last week against Rice.
6:17 P.M. EST: However, this is the last game between the two schools in the foreseeable future. The teams did not renew their contract for future match-ups, all but ending this great rivalry for a time.
6:16 P.M. EST: The two teams have played each other 42 times, and it has turned into one of the fiercest rivalries in the country during that time. Michigan leads the overall series 24-16-1, but Notre Dame has won five of the last seven meetings in South Bend.
6:15 P.M. EST: On Saturday night, two of the most storied programs will take the field. Notre Dame and Michigan will square off against each other at Notre Dame Stadium on NBC. The Wolverines have won the most games of any FBS school in college football, while the Irish have won the third-most.