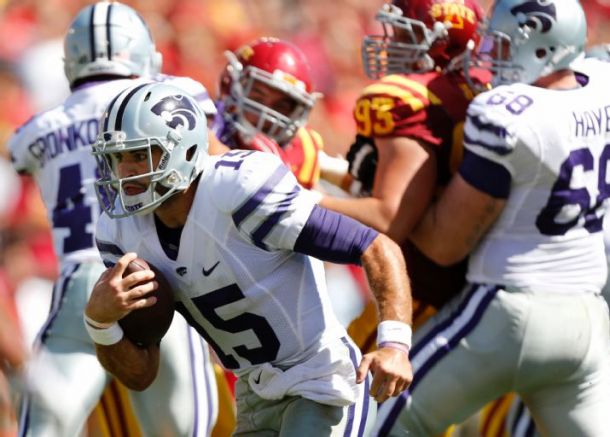 Jake Waters had a monster game throwing and running the ball to lead the Kansas State Wildcats back from a 15 point deficit against Iowa State. His touchdown with 90 seconds remaining would prove to be the difference as the game ended 32-28 after a late stop the Kansas State defense.
The game started as if Kansas State was going to win going away when Charles Jones got a 4 yard touchdown run. That was backed up by two field goals by Jack Cantele to make it 13-0.
Iowa State responded on their next drive to prevent any blowout from happening. Sam Richardson hit Jarvis West three times on the drive, including the 17 yard touchdown pass to make it 13-7.
After getting a stop on defense, Iowa State got the ball back and that man Jarvis West took the ball back to the house for an 82 yard punt return for a touchdown and Iowa State was on top, 14-13.
Iowa State was brimming with confidence and it showed on their next drive when they went 75 yards on 12 plays. DeVondrick Nealy capped off the drive with a 2 yard touchdown run. At 21-13, Kansas State let a good start slip away.
Iowa State got another touchdown when Jarvis West threw a 29 yard touchdown pass to Allen Lazard on a trick play. Iowa State erased any doubts of a blow by Kansas State and appeared to be headed to one of their own. That did not last long as Jake Waters rallied Kansas State for a touchdown in the final seconds of the first half. He finished the drive off himself from yard out.
After an entertaining first half, it was 28-20 Iowa State at halftime. The third quarter went scoreless as both defenses firmed up.
After Sam Richardson's pass was intercepted by Randall Evans, Kansas State went down and got a 4 yard touchdown run from Charles Jones. The Wildcats went for two, but Waters was unable to get in and trailed 28-26 with 8 minutes left in the game.
Kansas State got the ball back with 3:01 left on the clock and needed a field goal for the win. Waters took over with his legs and arm to lead Kansas State to the eventual game winning touchdown. The two point conversion failed again and KSU led 32-28.
Iowa State tried one last time. They got down to the Kansas State 39 yard line, but Richardson was sacked and fumbled the ball. Even though Aaron Wimberly recovered, it was a turnover on downs.
The game ball for Kansas State goes to Waters. He went 16 of 29 for 239 yards, but also had 138 yards and 2 touchdowns on the ground. Charles Jones added 75 yards and 2 touchdown on the ground. Tyler Lockett had a big game receiving with 6 catches for 136 yards.
Sam Richardson finished 21 of 30 for 185 yards with 1 touchdown and 1 interception. He also had 32 yards rushing. DeVondrick Nealy had 38 yards on the ground and 1 touchdown to lead the Cyclones in rushing. Aaron Wimberly had 37 yards on 14 attempts, but also caught 5 passes for 49 yards.
Jarvis West was easily the player of the game for the Cyclones. He caught 8 passes for 75 yards and a touchdown. He also had the touchdown pass for 29 yards to Lazard and returned a punt 82 yards for a score.
Kansas State (2-0) has a bye next week before a massive game on Thursday night versus the Auburn Tigers on September 18.
Iowa State fell to 0-2 and has a rivalry game next week against the Iowa Hawkeyes. It would be an opportune time for the Cyclones to get their first win on the season.