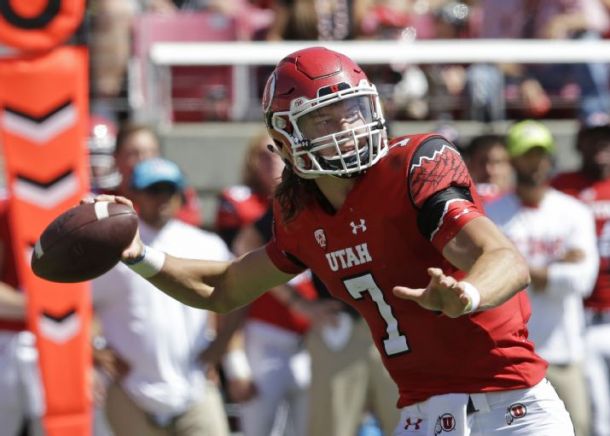 Utah junior quarterback Travis Wilson threw for five touchdown passes, two each to Dres Anderson and Kenneth Scott, to lift the Utes to a 59-27 victory at Rice-Eccles Stadium over the visiting Fresno State Bulldogs. It was a very balanced game yardage wise on offense for Utah who ran for 258 yards and threw for 268 yards.
As good as the offense was for Utah though, their defense was rock solid for the first 22 minutes. Fresno State had seven offensive possessions in the first quarter and a half resulting in SIX three-and-outs and a turnover on downs. Those drives totaled 30 plays for 57 yards including three drives of zero or fewer yards. The Bulldogs, who ran for 157 yards against USC in Week 1, were smothered by Utah only gaining 55 yards on 40 carries.
The game was not as close as the score indicated as Fresno State scored three touchdowns against the second-string defense of the Utes with drives of 81, 75 and 82 to finish out.
It was a very good win for Utah who faces a massive road test at Michigan Stadium in two weeks against the Michigan Wolverines. They host their first conference game at home against the struggling Washington State Cougars before running through the Pac-12 Gauntlet.
That tough stretch of six games starts with a trip to the Rose Bowl to face the UCLA Bruins followed by a road game in Corvallis against Oregon State, the only team not currently ranked that Utah plays during this stretch. They return home for a date with the USC Trojans before a tough road game at Arizona State.
The final two games come against the two best teams in the Pac-12 North at home to the Oregon Ducks and then finally away to the Stanford Cardinal. They will more than likely need at least two wins from those six games to earn bowl eligibility.
Fresno State returns home next week for a tough game against Nebraska, who barely survived a scare from FCS side McNeese State on Saturday. The task will not be easy for a team who had struggled against the run so far in 2014 hosting a side averaging almost 350 yards on the ground per game.