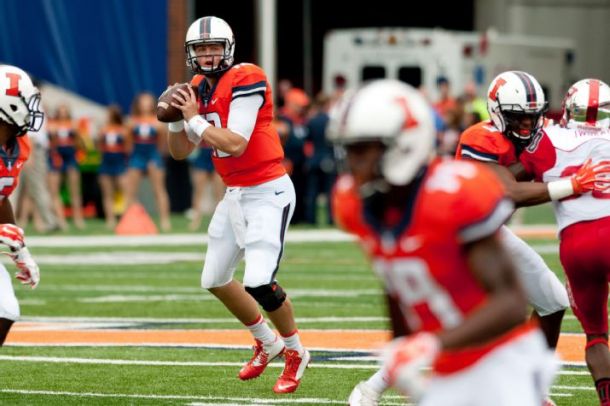 Illinois overcame a deficit on two separate occasion and Wes Lunt threw for 456 yards, as Illinois defeated Western Kentucky 42-34 on Saturday afternoon.
The game started well for Illinois after Joseph Occhipinti recovered a fumble and Josh Ferguson ran in a touchdown from a yard out to give Illinois an early 7-0 lead. Western Kentucky came back with 17 unanswered points to Illinois in an early 17-7 hole.
It took until the third quarter for Illinois to reclaim the lead, but they did so when Wes Lunt threw an 8 yard touchdown pass to Martize Barr. Western Kentucky grabbed the lead back at 24-21 when Wonderful Terry scooped up a fumble and took it back 95 yards for the touchdown.
Illinois looked to be in deep trouble when Wes Lunt was intercepted by Prince Charles Iworah and the ball was at the Illinois 7 yard line. However, the Illini defense did not break and held Western Kentucky to a 19 yard field goal by Garrett Schwettman.
Illinois erased that deficit with a 62 yard touchdown pass from Lunt to Justin Hardee and then Taylor Barton had a pick six for 77 yards to make it 35-27. Donovonn Young added another touchdown from a yard out to make it 42-27. A late touchdown by Brandon Doughty to Antwane Grant made it a 42-34 final.
Wes Lunt finished 35 of 50 for 456 yards with 3 touchdowns and on interception. Donovonn Young led the Illini with 47 yards rushing and 1 touchdown on 14 carries. The top target for Lunt was Justin Hardee. He finished with 6 catches for 110 yards and a touchdown. Geronimo Allison also had 8 catches for 97 yards.
Brandon Doughty went 28 of 48 for 297 yards with 2 touchdowns and one interception through the air. He did not have the same success that he did last week against Bowling Green. Leon Allen had 24 carries for 118 yards and a touchdown. Allen also added 6 catches for 56 yards. Antwane Grant led the receivers with 4 catches for 58 yards and a touchdown.
Western Kentucky (1-1) will go on the road for a second straight week next Saturday and face Middle Tennessee in their Conference USA opening clash.
Illinois (2-0) will have to play far better than they have in their first two games next week. They face Washington on the road in Seattle.