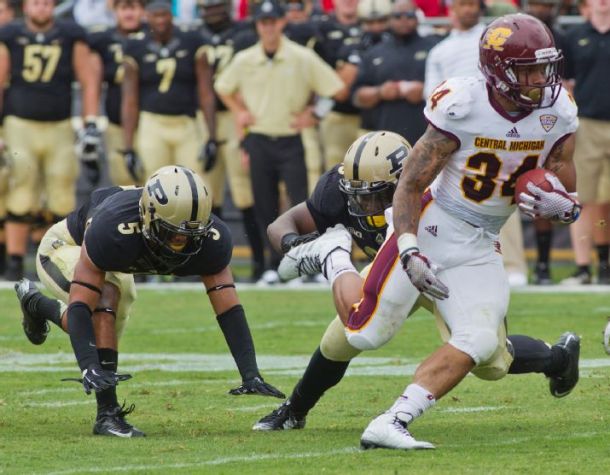 The Central Michigan Chippewas used a good defensive performance and a 155 yard performance from Thomas Rawls to upset the Purdue Boilermakers on Saturday.
The first scoring play of the game set the tone for the day. Brandon Greer undercut Danny Etling's pass and took it back to the house from 57 yards out. CMU had a 7-0 lead just 4 and 1/2 minutes into the game.
It got better for the Chippewas when Cooper Rush hit Anthony Rice over the middle. Two Purdue defenders converged on Rice, but neither tackled him and he galloped off to the end zone for a 65 yard touchdown catch. Just past halfway through the first quarter, Central Michigan held a 14-0 lead on Purdue.
Purdue eventually responded with a sustained 17 play drive that covered 77 yards. Etling's 4 yard touchdown made it a 14-7 CMU lead. However, the Chippewas answered right back when Thomas Rawls went into the end zone from 2 yards out to make it a 21-7 lead.
Purdue got a field goal early in the third quarter, but Cooper Rush's 11 yard touchdown pass to Ben McCord put the game out of reach at 28-10. Purdue's Austin Appleby found Danny Anthrop for a 23 yard touchdown, but Central Michigan answered just like they did all game. Rawls got his second touchdown when he rumbled in from 16 yards out.
Cooper Rush went 11 of 16 for 172 yards with 2 touchdown passes and an interception. It was a decent game from Rush who only made the one mistake on the interception. Rawls had 155 yards and two touchdowns on 31 carries. He also ran for over 100 yards in the opener against Chattanooga. Rawls also caught 3 passes for 50 yards. The leading receiver was Anthony Rice with 2 catches for 66 yards and a touchdown.
Purdue's Danny Etling went 17 of 32 for 126 yards and 2 interceptions. Austin Appleby went 7 for 17 with 78 yards and a touchdown after he replaced Etling. Etling and Raheem Mostert led the Boilermakers in rushing. Both had 53 yards rushing with Etling doing so on 10 carries and Mostert doing it on 19 carries.
The Purdue receivers did not have a stand out on Saturday. Dolapo Macarthy finished with 3 catches for 33 yards. Mostert had 5 catches for 31 yards and Justin Sinz had 3 catches for 31 yards.
Central Michigan (2-0) looks to continue their hot start next week when Syracuse comes to town. Central Michigan faces three straight "Power 5" opponents before starting their conference schedule on September 27. They travel to Kansas on September 20.
Purdue has to go back to the drawing board, as they will be facing Notre Dame next week. It looks to be another rough game for Purdue coming up.