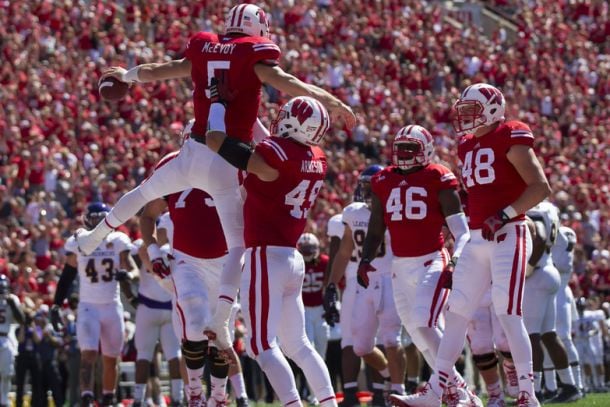 It was a very slow start to the game for the Wisconsin Badgers offense, but the passing game came to life as the Badgers defeated Western Illinois 37-3 on Saturday.
The game began on a bizarre play. Wisconsin's Andrew Endicott kicked off to Kyle Hammonds who bobbled the ball with the ball going all the way outside of the end zone. He took a knee thinking it would be a touchback. However, since the ball was completely out of the end zone, it was a safety and Wisconsin held a 2-0 lead before a second even ticked off the clock.
Western Illinois looked poised early on. A quick three-and-out after the safety was backed up with an interception of Tanner McEvoy's pass by Dallas Nichols at the Western Illinois 26 yard line. WIU went down the field on the Badgers and got into the red zone before Trenton Norvell's pass was tipped and intercepted by Michael Caputo to end the scoring threat.
Wisconsin would do nothing with the ball and their next drive saw them march down to the Western Illinois 7 yard line. On fourth and 1, Corey Clement got the carry but was stuffed for no gain and the Badgers came away with no points.
Wisconsin would get points on their next drive courtesy of Tanner McEvoy's 7 yard touchdown run. Western Illinois came back down the field and got a 29 yard field goal from Nathan Knuffman from 29 yards out to make it a 9-3 game.
The slow start by Wisconsin gave way to a much more focused offense in the second half. On fourth and two from the Western Illinois 3, McEvoy found Austin Ramesh for a 3 yard touchdown to make it 16-3. Melvin Gordon caught and an yard pass on the next drive and showed tremendous strength to break two tackles and find the end zone.
Wisconsin added two more touchdowns, both via the air, in the final quarter. McEvoy found Alex Erickson for a 10 yard strike while backup quarterback Bart Houston threw a six yard touchdown to Corey Clement.
It was a dominating defensive performance in the second half by the Badgers. They did not allow Western Illinois into Badgers territory once in the second half.
Tanner McEvoy had a much better game passing the ball compared to last week's debacle against LSU. He went 23 of 28 for 283 yards with 3 touchdowns and an interception. He also ran for 55 yards and a touchdown on the ground. Bart Houston completed his only pass for the six yard touchdown to Corey Clement.
Speaking of Clement, he was the leading rusher for the Badgers with 57 yards on 9 carries. Melvin Gordon had a tough time getting anything going against Western Illinois who had his number. Gordon finished with only 38 yards rushing on 17 carries for a 2.2 yards-per-carry average. The run game is something that suffered against Western Illinois on Saturday.
Alex Erickson is slowly becoming McEvoy's favorite target. He had 10 catches for 122 yards and a touchdown. Sam Arneson finished with 4 catches for 87 yards as well.
Trenton Norvell went 13 of 21 for 108 yards and an interception for Western Illinois. J.C. Baker had 60 rushing yards on 22 carries. Hi-C Scott led the team with 6 catches for 63 yards.
Western Illinois (1-1) will dip back into FCS competition next week with a home game versus Drake. They do face Northwestern on September 20 in their final FBS opponent for the year.
Wisconsin moves to 1-1, but there are still plenty of concerns. Melvin Gordon could not get going against an FCS opponent and the offense was sluggish to start the game. They have two more tune up games before the Big 10 season starts for them on October 4 at Northwestern. The Badgers have a bye next week and then face Bowling Green on September 20 before another home game on September 27 versus South Florida.