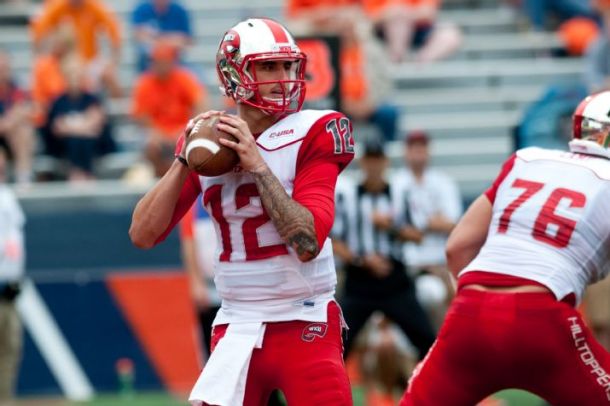 Week 3 in college football does not have a bunch of marquee matchups, but there are two matchups between mid-major teams that are worth keeping an eye on. Those two games are Northern Illinois at UNLV and Western Kentucky at Middle Tennessee.
Northern Illinois Huskies (2-0) at UNLV Rebels (1-1)
Northern Illinois comes into this game at 2-0 with wins over FCS Presbyterian and the Big Ten's Northwestern Wildcats. The Huskies completely dominated Presbyterian in the season opener, as everyone expected. Northern Illinois showed off their defense against the Wildcats in a 23-15 upset victory in Evanston, Illinois.
Meanwhile, UNLV is stumbling into this game at 1-1 on the season. They were ran out of the building against Arizona in a 58-13 shellacking and then struggled to beat FCS Northern Colorado, 13-12.
The Huskies will be expected to run the ball a lot in this game. They have averaged 322.5 yards a game to start the year, but against Northwestern, they only amassed 221 yards. The offense did take off when Drew Hare entered the game in the second half. Hare led the team to the team's 23 points and accounted for all three touchdowns. He went 6 of 10 for 109 yards and 2 touchdowns. He also ran for 31 yards and 1 touchdown on 31 carries. Unsurprisingly, Hare was named the starting quarterback against UNLV.
The Rebels had two different games to start the year. Against Arizona their passing attack was better (252 yards compared to 119 yards rushing). Against Northern Colorado, the rushing attack was better (211 yards compared to 121 yards passing). It will be interesting to see which part of the offense ends up being focused on. Nevertheless, the offense will have to score more than 13 points if they are to win this game.
Part of the issue for the Rebels offense may be that quarterback Blake Decker has not had a lot of starting experience at UNLV. The two games this year are the extent of his starting experience. That can be seen by Decker's 4 interceptions in the first two games. He will need to perform far better against NIU and for the rest of the year if UNLV wants to make it back-to-back bowl games in 2014.
As of this writing, Northern Illinois is sitting as 10 point favorites and for good reason. Overall, they are the better team, but UNLV can keep this game close if Decker cuts down on the mistakes and the offense is balanced.
The game between Northern Illinois and UNLV is at 7 PM Eastern Time on Saturday.
Western Kentucky Hilltoppers (1-1) at Middle Tennessee Blue Raiders (1-1)
These two teams come into the game with similar starts. They both their season openers before falling to Big Ten foes in the second week of the season.
Western Kentucky had a great performance by Brandon Doughty in their season opening game against Bowling Green, which they won 59-31. Doughty threw for 569 yards and 6 touchdowns on 46 of 56 passing. That performance led many people to believe that the Hilltoppers could defeat Illinois in week two. Western Kentucky had the lead going into the fourth quarter, but Illinois scored three touchdowns to pull away from them. A late touchdown by Western Kentucky made the final score 42-34.
Middle Tennessee routed FCS Savannah State in their opening game, 61-7. Game two was at Minnesota, where the Gophers ran all over Middle Tennessee. The Gophers led 28-0 at halftime and eventually won 35-24 with the Blue Raiders getting a late touchdown to flatter the final score.
This game will feature the pass heavy Western Kentucky offense facing off against their opponent's balanced attack offense. It is tough to know how well the Middle Tennessee secondary truly is because their first two opponents threw for 84 yards and 67 yards, respectively. Minnesota does not have a great passing offense, so that total is not very surprising. The Middle Tennessee secondary will be in for a shock when they see Brandon Doughty slinging the ball around the field.
That does not imply Middle Tennessee will lose this game. If the Blue Raiders can keep that balanced offense going and control the clock, which keeps Doughty off the field, it will help them towards winning. What the Blue Raiders do not need is another three interception game from quarterback Austin Grammer who did just that last week against Minnesota. The one thing going for Grammer is that the Hilltoppers have given up 769 passing yards in their first two games, so there will be opportunities for Grammer to throw.
The Blue Raiders also have to worry about Western Kentucky's Leon Allen running wild this week. Allen ran for 99 yards in week one and 118 yards in week two. The Blue Raiders gave up 220 yards of rushing to David Cobb of Minnesota last week.
The line on this game is a point and a half in favor of Middle Tennessee. Given each team's positives and negatives, the line seems accurate. The game will hinge on whether Austin Grammer and Middle Tennessee can cut down on the turnovers (or create them on defense) and control the clock. If they do those things, they will come out on top.
Western Kentucky at Middle Tennessee is schedule for 7 PM Eastern Time on Saturday.