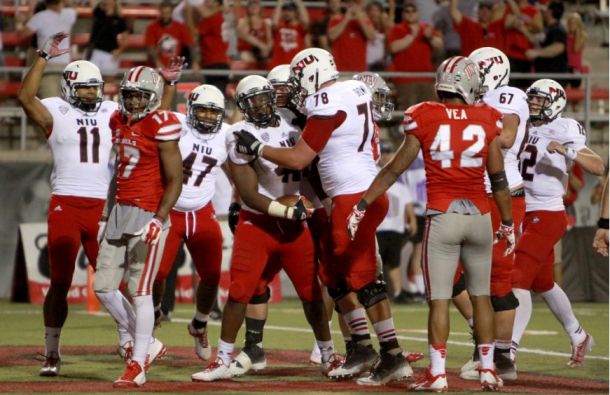 Drew Hare's first collegiate start was winning one, as he lead the Northern Illinois Huskies to a 48-34 victory over UNLV on Saturday evening.
The game was lively from the start with a 25 yard field goal from UNLV's Jonathan Leiva while Cameron Stingily responded with a 5 yard rushing touchdown for an early 7-3 NIU lead. NIU later gave up a safety on a personal foul penalty, but the Huskies still held the lead at 7-5.
It would not be until past the midway point of the second quarter when another score occurred. Drew Hare threw a 12 yard touchdown pass to Keith Harris Jr. to extend NIU's lead to 14-5. UNLV had a good drive in response, but Leiva missed his 33 yard field goal. NIU took a 21-5 lead prior to halftime with Hare's 10 yard touchdown pass to Juwan Brescacin.
The second half was very lively with both teams putting up plenty of points. NIU started it off with Hare's 12 yard run to extend their lead to 28-5. At this point, it looked like NIU would have coast to the win. However, UNLV came back with Blake Decker finding Devante Davis for a 26 yard hookup to make it 28-12. NIU added a 45 yard field goal from Tyler Wedel to extend their lead to 31-12.
UNLV would cut the NIU lead down drastically in a matter of minutes. The Decker and Davis connection hooked up again from 53 yards out to make it a 31-19 game. On NIU's next possession, Hare was hit and fumbled the ball, which was recovered by Jordan Sparkman. On fourth and goal from the two, Shaquille Murray-Lawrence powered his way in for a touchdown and UNLV was down only 31-26 as the game entered the fourth quarter.
NIU's opening drive of the fourth led to a 33 yard field goal from Wedel to make it an 8 point lead at 34-26. UNLV's incredible comeback continued on the ensuing possession when Murray-Lawrence ran in for a 9 yard touchdown. Decker found Davis on the two point conversion to make it a tie game at 34.
NIU responded quickly when Hare found Da'Ron Brown for the 54 yard touchdown. UNLV drove back down to the NIU 7 yard line, but Marlon Moore intercepted Decker's pass to end that specific scoring threat.
NIU salted the game away after the interception and capped it off in style with a 2 yard touchdown run by Stingily to make it 48-34.
Drew Hare was stellar in his first start completing 18 of 28 passes for 285 yards and 3 touchdowns. He also had 14 carries for 74 yards and another touchdown.
Cameron Stingily ran for 102 yards and 2 touchdowns on 17 rushes. Keith Harris Jr. had 17 rushes for 65 yards while Joel Bouagnon added in 11 carries for 50 yards. NIU had 331 yards rushing on 69 carries.
Da'Ron Brown led the Huskies in receiving with 6 catches for 138 yards and a touchdown. Chad Beebe caught 3 passes for 55 yards.
Blake Decker played his best game this year by completing 24 of 42 passes for 397 yards with two touchdowns and an interception. Shaquille Murray-Lawrence had 17 carries for 60 yards and 2 touchdowns.
Unsurprisingly, Devante Davis was Decker's top target. Davis caught 6 passes for 150 yards and two touchdowns.
Northern Illinois (3-0) has a massive game next week on the road at Arkansas (2-1, 0-1). UNLV (1-2) will also be on the road, but their game is against Houston (1-2).