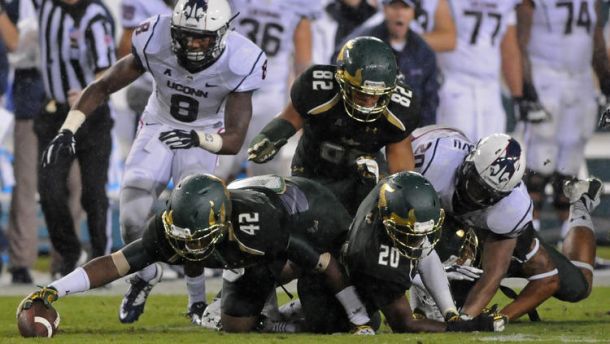 Friday night's game between the Connecticut Huskies and South Florida Bulls was an unexciting until the final minutes. No, it was not exciting because the game was over. It was due to Connecticut finding their best offensive drive of the game, though it was too late. The Bulls recovery of UConn's onside kick sealed the 17-14 win in a game played through torrential downpours at certain points.
UConn's opening drive was cut short when quarterback Chandler Whitmer was sacked by Chris Dunkley and fumbled the ball. Dunkley also recovered the ball to give USF great field position at the UConn 19 yard line. Four plays later, Marlon Mack pounded the ball for a one yard touchdown to give South Florida a 7-0 lead.
South Florida doubled their lead to 14-0 on Mike White's 30 yard touchdown pass to Rodney Adams. Connecticut would not get anything going on offense for the remainder of the half, but the defense did get a score.
With seconds left in the half, Mike White's pass was right off the hands of Adams and Byron Jones took the ball out of the air and ran it back for a 70 yard pick six. Up to this point, UConn had little hope of making it a game, but this turnover changed things in their favor.
The second half offered more of the same conservative play calling by both teams. UConn was just looking to hang around why USF need one score to put the game out of reach.
The Bulls got that score with Marvin Kloss' 19 yard field goal with 6:03 remaining. UConn would not answer on their next drive, but finally got something going on offense with less than two minutes remaining.
Through the first 58 minutes of the game, Chandler Whitmer was 2 of 5 for 13 yards. Those stats are not a typo. On this drive, he went 4 of 4 for 75 yards and a 32 yard touchdown to Geremy Davis. That made it 17-14, but the ensuing onside kick was recovered by South Florida and allowed them to end the lackluster game.
UConn refused to let Whitmer throw until that last drive. He finished 6 of 9 for 88 yards and a touchdown. He also lost the fumble early in the first quarter that led to the first South Florida touchdown.
Max DeLorenzo had 10 carries for 36 yards while Arkeel Newsome contributed 4 carries for 30 yards. The Huskies ran for 44 yards on 27 carries as a team, which comes out to a 1.6 yards-per-carry average.
Geremy Davis was the leading receiver after his 32 yard touchdown catch. He had just that one catch. Deshon Foxx had 2 catches for 30 yards.
The Huskies managed only 132 yards of total offense and were 0 for 9 on third down conversions. They were also penalized 9 times for 49 yards.
South Florida had a better game, but they lacked the need knock out punch. However, a win is a win. Mike White finished 10 of 18 with 113 yards with a touchdown and an interception.
Marlon Mack was the workhorse with 31 rushes for 103 yards and a touchdown. D'Ernest Johnson added 41 yards on 10 carries. The leading receiver for the Bulls was Rodney Adams with 4 catches for 68 yards and a touchdown.
Connecticut (1-3, 0-1) faces Temple next Saturday in their second conference game. South Florida (2-2, 1-0) will travel to Madison, Wisconsin to face the Badgers next Saturday.