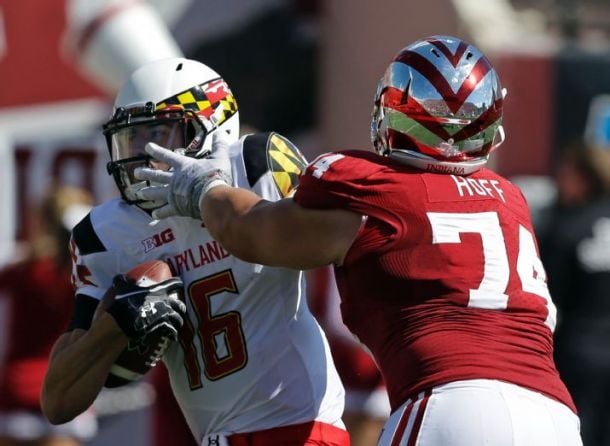 Maryland's two-quarterback system was not by design, but it was effective. C.J. Brown played the first half and Caleb Rowe played the second, but it did not hurt Maryland as they won 37-15 over Indiana on Saturday.
The two teams traded field goals in the first quarter before C.J. Brown ran for a 5 yard touchdown to give Maryland the 10-3 lead. Indiana was only able to muster a 48 yard field goal from Griffin Oakes to make it 10-6. Brown then found Stefon Diggs for a 29 yard touchdown pass to make it a 17-6 game.
Maryland extended their lead to 20-6 after Brad Craddock hit a 3 yard field goal. Indiana made it an 11 point game again after Griffin Oakes monster 58 yard field goal as the clock struck zero on the first half.
C.J. Brown appeared to have hurt his left wrist late in the first half, which saw the emergence of Caleb Rowe in the second half. Rowe hit Brandon Ross for a 36 yard touchdown in the third quarter to make it 27-9. Those would be the only points for either team in the third quarter.
Maryland made it a 34-9 game with Rowe and Juwann Winfree hooking up for a 30 yard touchdown. Tevin Coleman ran in from 4 yards out to make it 34-15 after the failed two point conversion and Craddock capped the scoring with a 48 yard field goal.
Both Caleb Rowe and C.J. Brown had very similar numbers. Rowe went 10 of 15 for 186 yards and 2 touchdowns. Brown went 10 of 15 for 163 yards and one touchdown. Neither player threw an interception.
Brandon Ross ran only 6 times, but had 61 yards. Brown had 7 carries for 22 yards and a touchdown prior to his injury.
Stefon Diggs caught 6 passes for 112 yards and a touchdown. Deon Long caught 9 passes for 105 yards as Maryland had 349 yards passing.
Nate Sudfeld had a long game behind center. He completed only 14 of his 35 passes for 126 yards. Tevin Coleman had 22 carries for 122 yards and the touchdown. Nick Stoner caught 4 passes for 40 yards.
Maryland (4-1, 1-0) have shown they can compete in their first year in the Big Ten, though they have only played one conference game. Next week will be a big game for them to see how they stack up to the top teams, as they face Ohio State next week at home.
For Indiana (2-2, 0-1) they have struggled to find momentum this year. Their win last week over Missouri on the road gave way to a very disappointing game on Saturday. They face North Texas at home next weekend to try and get back to a winning record.