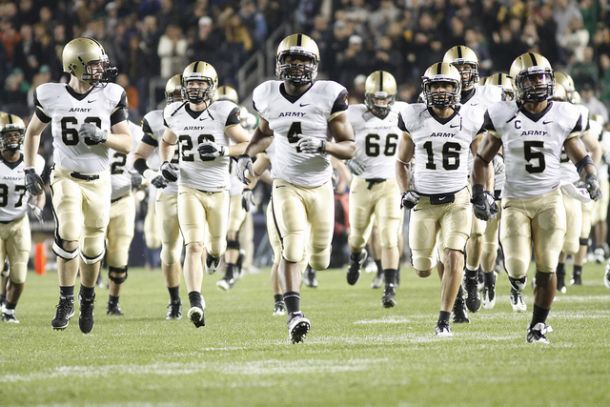 Two old rivals met on the gridiron Saturday and it was Tyler Varga's three yard touchdown run in overtime that gave Yale the 49-43 victory over Army. It was the first meeting of the two teams since 1996 and it became an instant classic. It was Varga's 5th rushing touchdown of the game.
Prior to Saturday's game, the two teams had met 45 times. Yale held a 21-16-8 mark prior to the game.
This game was lively from the start, particularly for Army. They drove to the Yale 26 yard line after three plays but could not get any points. Their next drive saw Larry Dixon run for a 3 yard touchdown to make it 7-0. Yale responded immediately with a touchdown drive of their own. Morgan Roberts ran in for a 13 yard score to tie the game at 7.
A.J. Schurr's 22 yard touchdown pass to Edgar Poe made it 14-7, but once again, Yale had a quick response. Varga's first touchdown run of the day made it 14-14. Schurr came back with a 43 yard touchdown run of his own to make it 21-14, which is how the score looked at halftime.
Army appeared to finally put some distance between the two teams when Jeremy Timpf picked off Roberts' pass for a 45 yard touchdown return. However, Yale would not quit. Varga ran in from 15 yards out to make it 28-22 after converting the two point conversion. Angel Santiago quickly answered when Angel Santiago scored from 53 yards out. They went for two and converted as well to make it a 36-22 game.
Yale would score two touchdowns in the final 5:05 of the third quarter to tie the game at 36 apiece. First, Roberts hit Ross Drwal for a 22 yard touchdown and then Varga ran in from 18 yards out for his third touchdown of the game.
The first play of the fourth quarter was an Angel Santiago one yard touchdown run to make it 43-36. Yale waited until late in the fourth quarter to tie the game, but they did on Varga's fourth touchdown pass from 10 yards out.
Army had one final chance to win the game in regulation. After driving down to the Yale 25 yard line, Daniel Grochowski's kick was wide left at the end of regulation in a sign of things to come. Grochowski would miss wide right on a 25 yard field goal on Army's possession in overtime.
That set up Yale with a chance to pull the upset. Varga's 3 yard touchdown plunge gave Yale the massive win, 49-43.
Angel Santiago went 6 of 8 passing for 117 yards. He also ran for 88 yards and 2 touchdowns on 8 carries. A.J. Schurr went 6 of 12 for 94 yards and a touchdown but also ran for 135 yards and a touchdown on 15 carries.
Aaron Kemper had 83 yards rushing on 7 carries. As a team, Army ran for 386 yards on 53 carries for an average of 7.3 yards-per-carry. Tony Giovannelli caught 4 passes for 67 yards while Larry Dixon caught 1 pass for 38 yards.
Morgan Roberts went 23 of 40 for 290 yards with a touchdown and an interception for Yale. He ran for 67 yards and a touchdown on 15 carries.
The player of the game was Tyler Varga. He ran for 185 yards and 5 touchdowns on 28 carries. Candler Rich contributed 57 yards and Kahill Keys had 26 yards.
The leading receiver for Yale was Grant Wallace with 101 yards on 6 catches. Deon Randall caught 4 passes for 54 yards with Stephen Buric catching 3 passes for 52 yards.
Army (1-3) is in a serious hole if they want to make a bowl game this year. They got a waiver from the NCAA for this game to count towards bowl eligibility, but that is rendered moot with the loss. They still have a chance to make a bowl game and it starts next week with a home game versus Ball State (1-3).
Yale (2-0) is off to a rousing start in two high scoring victories. They beat Lehigh last week 54-43 in their season opener. Next week, Yale travels to face Cornell in the Ivy League opener for both teams.