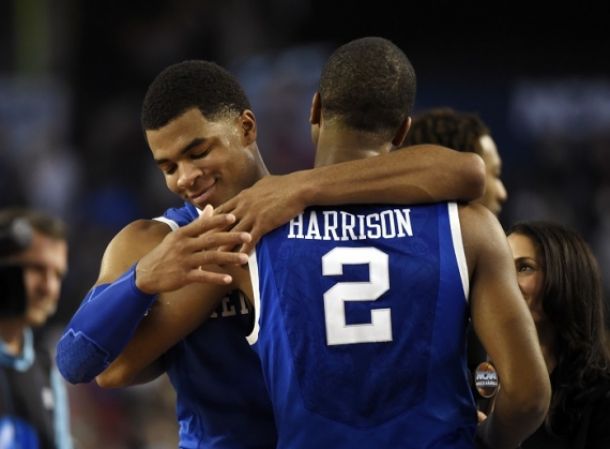 The USA Today Top 25 coaches poll came out on Thursday for the 2014-2015 college basketball season. Some teams have made surprising appearances in the rankings, but here are season projections and how the teams will fare throughout the regular season.
Kentucky (26-3) - This has come to no surprise as they brought in a top recruiting class again and bring back most of last season's team that went to the NCAA tournament championship game.

Arizona (27-2) - Even without Nick Johnson or Aaron Gordon, Arizona will still be one of the best defensive teams in the country and the addition of Stanley Johnson won't hurt.

Duke (25-4) - Losing a star like Jabari Parker won't hurt much as the Blue Devils get two of the best recruits in the country in Jahlil Okafor and Tyus Jones with an already deep roster.

Wisconsin (27-2) - After losing in the Final Four by a late second shot, the Badgers return their entire starting 5 except for 1 player. And Frank Kaminsky is one of the best in the country.

Kansas (25-4) – Looking for their 11th consecutive regular-season title, the Jayhawks look better than they were last season when they had Andrew Wiggins and Joel Embiid.

North Carolina (24-5) – The Tar Heels had an up and down season last year and have gained a top 3 recruiting class. Marcus Paige looks like the best point guard in the country.

Florida (24-5) – After coming up short last year when they were the best team in the country most of the season, Chris Walker will lead the way this year after his 2 game suspension.

Virginia (25-4) – They won the ACC last season and were a surprise team by most. The Cavaliers will still be a top defensive team but won't surprise anyone this season.

Louisville (25-4) – The Cardinals lost Russ Smith and Luke Hancock but also returned Montezl Harrell and a top recruiting class. This is their 1st season in the ACC.

Texas (23-6) – The Longhorns return their entire starting five from last season and add a top recruit in Myles Turner. Still a young team but will be a force to contend with Kansas.

Wichita State (28-1) – After a flawless regular season last year the Shockers will have the same success, after a disappointing loss to Kentucky in the round of 32 last season.

Villanova (27-2) – Playing in a very easy Big East Conference they will be the favorites most of the season. But again they won't be battle tested by NCAA Tournament time.

Gonzaga (27-2) – Also playing in a fairly weak conference, the Bulldogs will bulldoze over most teams. But with a matchup against Arizona they could show if they are legit to contend.

Iowa State (23-6) – The Cyclones were a surprise team last season, but an injury caused them an early exit in the NCAA tournament. Now fully healthy, they expect a very solid season.

Connecticut (24-5) – The returning national champions play in a fairly depleted AAC conference. SMU should be their only real competition. But they have a very tough non-conference schedule.

VCU (25-4) – In a fairly easy schedule the only very tough game will be at home against Virginia. The Rams are still very quick and have a great defensive team.

San Diego State (26-3) – The Aztecs always have a very solid team but they do not have a very challenging schedule so a few losses won't come as a surprise.

Michigan State (22-7) – The Spartans were a disappointment last season as many picked them to win the NCAA tournament. They lost great players but return a very good Brandon Dawson.

Oklahoma (23-6) – The Sooners were a surprising team last season that made the NCAA tournament. But, they will make a few upsets this season in a solid Big 12 Conference.

Ohio State (22-7) – The Buckeyes lost their four year point guard in Aaron Craft but return a solid group of players. They will be better than most people expect.

Nebraska (24-5) – The Cornhuskers return 1st team all-Big Ten guard in Terran Petteway. They will not be underdogs much anymore coming off a great season last year.

SMU (23-6) – Emmanuel Mudiay would have put this team in the top 15 in the country. But his decision to play overseas instead has put Larry Brown in a tough situation.

Michigan (21-8) – Caris LaVert will be one of the best players coming into the season but he does not have much around him. The loss of Nik Stauskas will hurt this year.

Syracuse (20-9) – This team for the 3rd straight year will have a freshman starting point guard. Hopefully Kaleb Joseph can play as well as Michael Carter-Williams and Tyler Ennis.

Iowa (22-7) – Don't count the Hawkeyes out this year. They will be looking to improve after a pretty good season last year. The Texas game could be a statement game if they win.
These projections will probably be very off by the end of the regular season because college basketball is a crazy time. Kentucky is the early NCAA tournament favorites and will be most of the season. The question is, who will step up to challenge the mighty Cats? Buckle up. The Madness is almost underway.