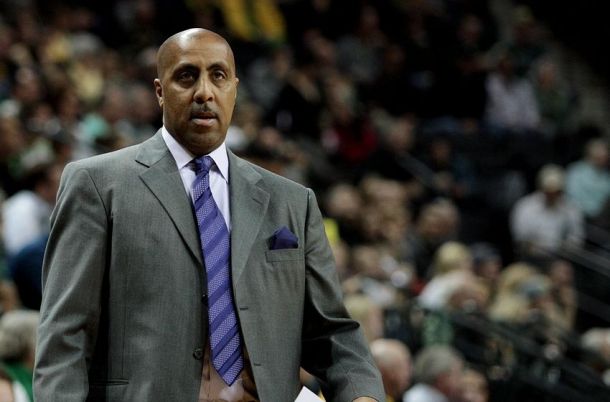 As the Washington Huskies Men's Basketball Team prepares to start their 2014-15 Regular Season on Friday night against South Carolina State, fans of the team got a glimpse of a bright future on Wednesday night. The university received National Letters of Intent from six highly-regarded recruits in what could be one of the best incoming classes that Lorenzo Romar has brought to Montlake.
The class picked up high marks from the biggest recruiting services ranking #10 according to ESPN, #7 according to Rivals and #6 according to Scout. It includes players to fill in very key spots at the 2, 3, and 4 positions on the Washington roster with the headliners being 6-foot-5 shooting guard Dejounte Murray out of Rainier Beach in Seattle, 6-foot-8 power forward Marquese Chriss out of Pleasant Grove High in Elk Grove, California, and 6-foot-6 small forward Matisse Thybulle out of Eastside Catholic in Sammamish, Washington.
All in all, they picked up four guys who were ranked either in the Scout Top 100 or the Rivals Top 150 to get their Class of 2015 bunch started. The class will bring in three frontcourt players to try and boost that area of the floor which will likely be a weakness for the Huskies during the 2014-15 season due to inexperience.
Senior power forward Shawn Kemp Jr brings with him the most returning experience at the forward position having played just 493 minutes last season. The pair of Gilles Dierickx and Jernard Jarreau played a total of 73 minutes combined last season, this was largely in fact to Jarreau sitting out the year after suffering a season-ending knee injury on opening night. Another player who is expected to have an impact in the frontcourt for Washington is redshirt-sophomore Robert Upshaw, who sat out last season after transferring from Fresno State.
Washington's defense last season gave up the worst numbers in a decade allowing 74.7 points per game, an increase of 7.5 points per game from 2012-13. One of the big reasons for that was the rise in opponent's shooting percentage. In 2012-13, opponents shot 43.3% from the floor and 47.0% on two-point shots. In 2013-14, opponents shot 47.5% from the floor and 53.3% on two-point shots. Those numbers ranked them at 331st and 334th in the nation respectively out of 351 schools.
The defense put up some solid numbers in their lone exhibition game this season which took place last Thursday night against Division II school Saint Martin's from Lacey, Washington. The Huskies won the game 88-65 holding the Saints to just 33.3% shooting from the floor. Their two-point shot average was a little higher at 39.5%. Washington also won the rebound battle with 52 to Saint Martin's 33.
The big men (Kemp Jr, Jarreau, and Upshaw) did not disappoint as the three combined for 30 points including a career-high 19 from Shawn Kemp Jr. They added 16 rebounds and five blocked shots. The three also combined to make 13-of-19 shots from the floor for an average of 68.4%. That went a long way in the Huskies final tally of 45.3% shooting from the floor.
For Washington though, the biggest keys to a successful season will be the health of their backcourt led by captains Andrew Andrews and Nigel Williams-Goss. The two underclassmen combined to bring back 822 points, 223 assists, 265 rebounds and 73 steals. Fortunately, Washington does have some solid depth in the backcourt in the likes of Darin Johnson and Quevyn Winters. Both of them also bring some size to the guard position as they each stand 6-foot-5, two inches taller than Williams-Goss and three inches taller than Andrews.
Another thing that will interesting to look this season is if the style of play changes when Mike Anderson comes off the floor. Based on the rotation it looks as though freshman Donaven Dorsey will be the reserve at small forward. Dorsey stands three inches taller than starter Mike Anderson. Will Lorenzo Romar keep him out on the wing when the Huskies have possession or will Dorsey try to use his size to gain an advantage in the post?
Projected Record: 20-10 Overall, 11-7 Pac-12
Would that record alone be enough to put Washington in the NCAA Tournament? No. The lack of experience in the frontcourt will hurt the Huskies during the non-conference portion of their schedule. Also hurting them, a lack of marquee road games. The three best games on their schedule are a neutral site game with Oklahoma in Las Vegas, a home game with San Diego State, and a potential neutral site game with Xavier in Anaheim.
Their draw in the Wooden Legacy really hurts them this season. They start out with a winnable game against San Jose State of the Mountain West. Next is a match-up with either Long Beach State or Western Michigan.
Long Beach State took Washington to double overtime in 2013 at the Alaska Airlines Arena before finally falling. They will be battle tested coming into the Wooden Legacy with away games at Brigham Young, Xavier, and UCLA as well as a home game with Kansas State.
Western Michigan made the NCAA Tournament last season after winning the MAC Tournament. They are a very small team with no one taller than 6-foot-8. Expect them to have a good record coming into the tournament with games against Aquinas College, Drake, Oakland and San Diego. This will be the team that Washington hopes to avoid in the semi-finals of the tournament.
While Xavier is the juicy match-up on the other side of the bracket, keep an eye on UTEP. A win over them in the final or third-place game may not be a bad result to have on Washington's resume come March.
The conference schedule does not do Washington any favors either as they will only have one game with Arizona (in Seattle) and UCLA (in Los Angeles). Expect the team's RPI number to be pretty low going into the conference tournament as a 5 or 6 seed. They will need two wins in the Pac-12 Tournament to be in the conversation for an NCAA Tournament berth.