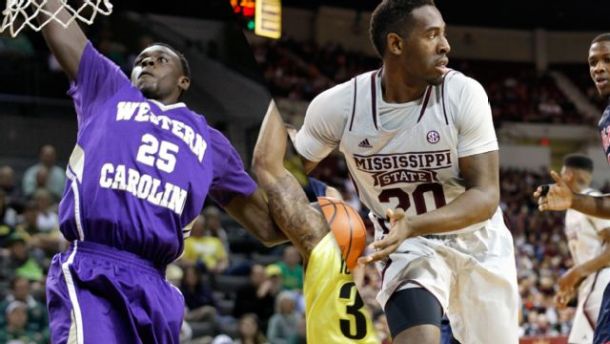 Western Carolina has been on the rise as a mid-major over the past few years. Coach Larry Hunter has made the program a rising star in the Southern Conference, and are looking to get the team to the NCAA Tournament for the 2nd time in their history.
Mississippi State, on the other hand, has been a perennial bottomfeeder in the SEC. 3rd year head coach Rick Ray hasn't been able to keep up with recruiting measures in the conference, and is just now starting to build the program back.
It would seem like a perfect storm for the mid-major to pull the upset on the Southeastern Conference team, in the first time the squads have ever played each other.
At first, senior guard James Sinclair led his team to a substancial lead. The powerful backcourt of Sinclair, Mike Brown, and Rhett Harrelson had a nice flow to start things off. They took advantage of MSU's many turnovers as well. Western Carolina had a 5 point lead with 10 minutes to go in the 1st half.
However, Western's young frontcourt was demolished by MSU's Roquez Johnson and hometown favorite Gavin Ware. On a night where MSU's best guard, Craig Sword, was out with an injury, the Bulldogs' made up for his loss under the basket, where they made 11 field goals, the vast majority of their points. They had a 1 point lead over WCU at halftime.
In the first portion of the 2nd half, the Catamounts got sloppy, and the Bulldogs' took advantage in the transition offense. Roquez Johnson and Gavin Ware were both getting to the costless throw line as well, and converting. After the first 5 minutes, defense took over. Ware was a force on defense for MSU, holding the young Western Carolina frontcourt of Torrion Brummitt and Tucker Thompson to 6 points.
Although the Catamounts made a small comeback, they couldn't seal the deal, and lost 66-56. It was still a valient effort, and the team will gain experience from the game.
Mississippi State will get Craig Sword back soon, and we will be able to see the whole picture of how the team will look this year. It was a good sign to see Roquez Johnson leading the team as he did, and Gavin Ware made his presence known. Trivante Bloodman was impressive as a floor general, with 7 points and 6 assists. Maurice Dunlap had two threes off of the bench.
Western Carolina now must regroup quickly for another SEC matchup on Monday, against the Alabama Crimson Tide. MSU welcomes Mississippi Valley State to Starkville on the same day.