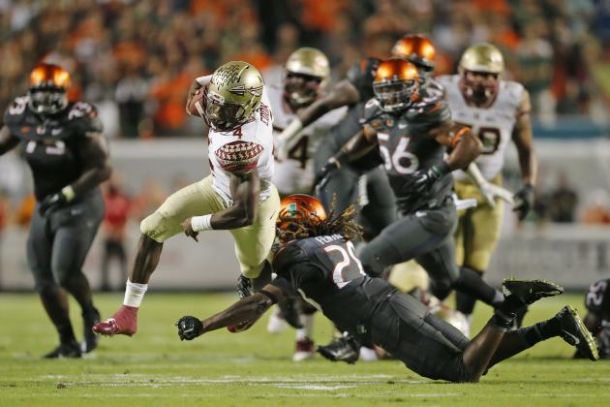 It seems today that everyone has an opinion on Jameis Winston, the controversial quarterback for the #3 ranked Florida State Seminoles. The thing that cannot be argued about Winston, however, is that he has an innate ability to lead his team to victory, no matter the situation. This is something that many foes have found out when playing against Florida State this year, and what the Miami Hurricanes found out tonight.
The Hurricanes came out firing tonight, forcing three straight three-and-outs for the Seminoles on defense. They were able to apply a great deal of pressure on Winston early, which was able to force innacurate throws throughout the early part of the game by the reigning Heisman Trophy winner. On offense, Miami was able to put up plenty of points early, scoring two quick touchdowns (only one of which with an extra point, however) and adding on a field goal as well, to take 16 point lead before the 'Noles could even get going. True freshman quarterback Brad Kaaya was calm, cool and collected throughout the first half, racking up over 200 yeards and 2 touchdowns. His counterpart, Jameis Winston, struggled in the first half of Saturday night's game, completing just 10 of 17 passes for 120 yards and an interception, which occurred deep in Miami territory when Florida was trying to score before the end of the first half.
Miami took a 23-10 lead into the locker room at halftime, but that lead would slowly disintegrate in the second half. The Seminoles lucked out in the third quarter, scoring on a pass that was batted high into the air by a Hurricanes' defender, which luckily for FSU landed in the waiting arms of running back Karlos Williams who was able to just walk into the endzone. The teams would trade field goals for the first half of the fourth quarter, but it was at the end of the game when Florida State made their move and went for the kill. After two short passes, Dalvin Cook ran three on three straight plays right through the heart of the Miami defense, the last one going for 26 yards and the go-ahead (and eventual game-winning) touchdown. Brad Kaaya led the Hurricanes on one final drive to try and reclaim the lead, but he had a fourth down pass get intercepted by stud defensive back Jalen Ramsey, which sealed a win for the undefeated Seminoles.
After a strong first half, Brad Kaaya really cooled off in the second half of the game, finishing just 16/34 passing, totalling uo 316 yards with 2 touchdowns and an interception, giving him an efficiency rating of 138.7. It was a tough night for Kaaya, specifically later on, but he has all the makings of a stellar college quarterback in the near future. Duke Johnson was the leading rusher for the Hurricanes, picking up 130 yards on the ground on 27 carries (his 6th straight game with at least 100 yards on the ground; 5 of the 6 have been for at least 130 yards). He also scored one touchdown. Tight end Clive Walford and wide receiver Phillip Dorsett each had four catches and a touchdown, with 127 yards and 90 yards, respectively. Deon Bush recorded an interception for the Miami secondary.
Jameis Winston started slow but finished with respectable numbers: 25/42, 304 yards with 1 touchdown and 1 interception, good for a rating of 123.4. FSU only ran the ball a total of 19 times the entire game, with Dalvin Cook getting the plurality of the carries (7) for the most yardage of anyone (92), and he also scored. Travis Rudolph, Rashad Greene and Nick O'Leary each had 4 receptions, with Rudolph totalling the most yards at 65.
This was a debilitating loss for the Miami Hurricanes. Not only is it yet another home loss against a long-time rival, but they are also out of contention for the ACC Championship. Still, all is not lost for Miami, at least in the long run. Despite a lack of flashy numbers, Brad Kaaya was calm even in immense pressure in Saturday's game, a great sign for a developing quarterback. Now 3-3 in the ACC, the Miami Hurricanes will travel next week to Virginia to take on the Cavaliers.
Once again, Florida State dug themselves an early hole yet came out on top, and yet again Jameis Winston started out slow but finished strong and led his team on a game-winning drive. It's an inexplainable phenomenon, the fact that Winston and the entire Seminoles team is able to play so well in the second half and win games even when they spend most the time looking dead in the water. FSU is an incredibly hard team to fit into the College Football Playoff Rankings. They have to be a top four team, due to the fact that they're still undefeated and from a Power 5 conference. That being said, they struggle against weak teams at times and have had to come from behind numerous times. It will be very interesting to see where they end up on Tuesday when the rankings are released. Florida State plays in Tallahasee against Boston College next week.