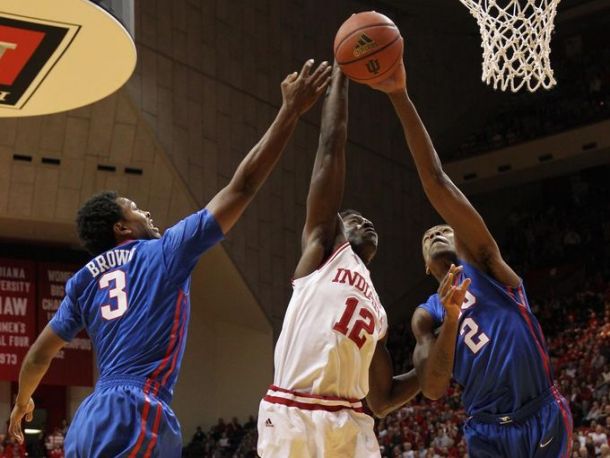 Maybe all of the talk about Tom Crean being on the hot seat in Indiana is all hogwash. He and his team tried to show that tonight, as they had an all-around performance against Larry Brown's lauded SMU Mustangs, winning 74-68.
Freshman James Blackmon Jr. muscled through the Mustangs' defense, garnering 26 points on the night, going 7-7 at the line, and attaining 7 rebounds. He keyed the powerful Indiana offense tonight, which had to rally multiple times during the game to overcome SMU's fantastic guard play.
Indiana's PG Yogi Ferrell created a lot of offense tonight, with 3 three pointers along with 7 assists. Nick Zeisloft was sharp from beyond the arc as well, going 3 for 6. One massive spark off of the bench was Troy Williams, who had been suspended for the first two games of the season for Crean's Hoosiers. Williams had 11 points and 4 rebounds, which put Indiana over the top. The other two players that were suspended for the first two games were Emmitt Holt and Stanford Robinson. Robinson was 0 for 2, while Holt didn't play.
Southern Methodist was coming off of a blowout loss to the highly ranked Gonzaga Bulldogs in Spokane, Washington. They were looking to rebound tonight, and they showed many flashes of brilliance. Ben and Nic Moore led the charge for Larry Brown's team, with 16 and 13 points respectively. They outrebounded Indiana 40-27, but were still relatively inept in the paint. SMU is missing their star forward Markus Kennedy, who is suspended for the first half of the season for academic reasons. Also, Southern Methodist's high profile recruit Emmanuel Mudiay, who was going to be a critical cog for them this year, decided to play in China for the season instead, a massive blow for a squad that was picked as a sleeper Final Four candidate coming into this season.
SMU now heads back to Dallas for a home stretch that includes undefeated Eastern Washington, an extremely impressive Arkansas squad, and a powerful UC Santa Barbara team. Indiana doesn't play a road game until New Year's Eve against Nebraska, but has some tough upcoming matchups, including - Louisville, Butler, and Georgetown.