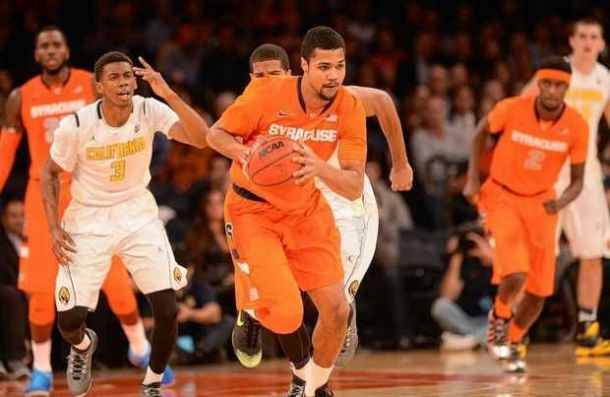 If you know California, you know their problems against Syracuse. Losing to the Orange in the NCAA Tournament leaves a reminder in your brain about playing them. Cal would overcome their struggles on Thursday night behind Jordan Matthews' 20 of his 22 points in the second half as they'd go on to win 73-59.
"We lost to them the past two years, and with guys that were returning it plays on your mind," said Martin, Cal's new head coach. "But I thought our guys did a great job of accepting the challenge."
California is slowly creeping into Top 25 discussion. With this win, it definitely helps their case for wanting to be in the top 25 in the country. Cal missed the NCAA tournament last season but had a very nice NIT Tournament run.
Via ESPN.com, the Bears had scored 90 points in their first two games under Martin. They hadn't done that in consecutive games since 2002.
"They showed up tonight and we didn't," Orange coach Jim Boeheim said.
"I thought Cal was really good on offense at the end of the first half," Boeheim said. "We couldn't get our offense going at all."
Cal will go on to play Texas on Friday in the Finals of the 2K Classic. Texas is ranked 10th at the moment and will be a huge test to Cal as they try to squeeze into the Top 25.