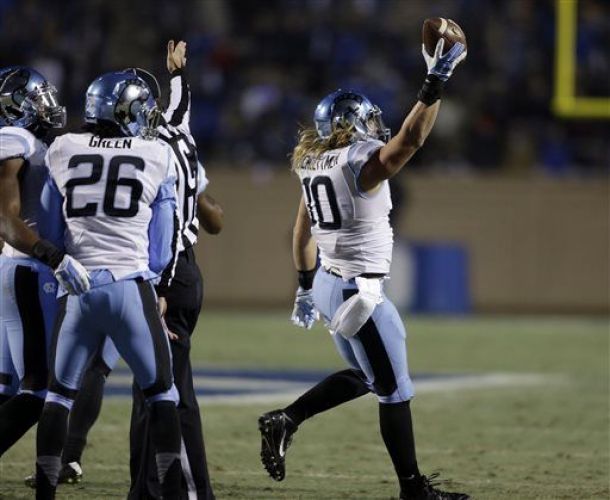 A few games ago, the North Carolina Tar Heels lost against the Miami Hurricanes in a blowout in south Florida. Larry Fedora's squad needed to win 2 of their last 3 games in order to achieve a bowl bid, and if they didn't, Fedora's job was likely in serious jeopardy. The team, however, has rallied around their coach, and after a thrilling comeback win over Pittsburgh last week, the Tar Heels have crushed their rivals, the Duke Blue Devils, 45-20, to make it to a bowl once again.
Junior quarterback Marquise Williams unleashed two passing and two rushing touchdowns for a dominant performance over the Duke defense. However, the tone was set early by the NC defense, as Tim Scott returned a Duke fumble for 10 yards to score a touchdown, making it 14-0. Carolina was relentless on the night, scoring 24 unanswered points from the end of the 1st quarter to near the end of the 3rd. Although Anthony Boone and the Duke offense attempted a mini-comeback, the UNC QB Williams took a dagger to their hearts with a 16 yard TD run with 6 minutes left in the game to seal the deal.
Williams wasn't the only star for UNC, as TJ Logan roared for 116 yards rushing, and Romas Morris wasn't too far behind, with 96 yards for him. 8 different Carolina players had receptions, and West Virginia native Ryan Switzer led the corp with 109 yards. Johnathan (Bug) Howard and Quinshad Davis both were also heavily involved in the action.
UNC did a great job holding star Duke WR Jamison Crowder to only 73 yards and a touchdown. Even poorer for Duke was the rushing attack, as QB Anthony Boone led the rushers with a measley 36 yards. The North Carolina defense has finally come together, and head coach Larry Fedora must be proud.
The Tar Heels played spoiler tonight, as now the Georgia Tech Yellow Jackets have won the ACC Coastal, setting up a date with Florida State in the ACC Championship game.
Duke now must regroup and try to avoid an ingominious 0-3 end to their season, and defeat Wake Forest next Saturday. North Carolina is at home against rival North Carolina State next Saturday as well.