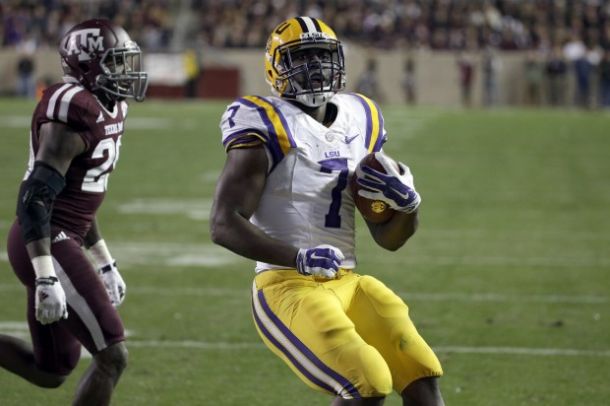 College Station, TX - LSU and Texas A&M had something to prove. They both wanted to prove to each other that both seasons which started strong was no fluke. But in the end, it was Leonard Fournette and the Bayou Bengals who ended that debate. Fournette rushed for a career best 146 yards and one touchdown. Quarterback Anthony Jennings added to the momentum with 226 total yards and one passing touchdown, as the Tigers defeated the Aggies by a score of 23-17.
Texas A&M took an early 7-0 lead on a rushing touchdown by Trey Williams, but the Aggies would not be able to hold on to the lead for long. LSU would dominate for good with the ground game, with Fournette starting it off with a 22-yard touchdown tying the game at 7. With 39 seconds left in the second quarter, Jennings connected with John Diarse for a 10-yard score making it 14-7. After Speedy Noil fumbles at his own 19, LSU recovered and converted and 31-yard field goal to go up 17-7 before the half.
During the third quarter, LSU managed just one field goal to go up 20-7 with 7:30 remaining. Texas A&M QB Kyle Allen managed to stage a comeback. Josh Lambo kicked a 34-yard field goal to pull within ten with 13:42 remaining. After LSU kicker Trent Domingue missed a 39-yard field goal, Kyle Allen took advantage along with Trey Williams setting up a 27 yard touchdown pass to Speedy Noil to make it 20-17 with 6:49 left.
LSU got the ball back when Forunette and Terrence Magee led the rushing attack on their final drive before Jennings nearly fumbled and lost the ball. They had to settle for a Colby Delahoussaye 43-yard field goal to make it 23-17. Allen made one more push for A&M starting from their own 25. After only completing two of five passes, he was intercepted by Jalen Collins to seal the game. Replay showed the LSU defensive line were offside, but was never called. LSU finishes 8-4 with A&M finishing a very disappointing 7-5.
As far as bowl predictions, LSU appears headed to a New Years Day bowl either the Outback or the Taxslayer Bowl. Texas A&M could stay local and go to the Texas Bowl and face a former Big XII opponent. After this season is over, Kevin Sumlin has some evaluating to do. His job shouldn't be at stake, but it has a very disappointing season for the Aggies. What started off as a very dominant year ranked as high as sixth, turned into losing five of the last six SEC games. It's possibly one of the biggest collapses in SEC history. Sumlin surely does not want to go through a season like this again.