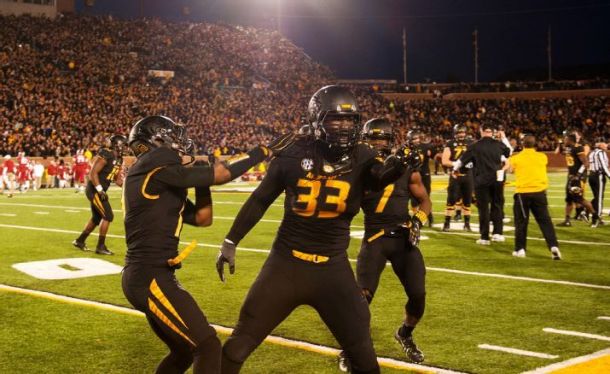 Columbia, MO - Arkansas and Missouri has both had an up and down year. It took Arkansas nearly two years to snap a 17-game SEC losing streak. Missouri was looking for a second straight trip to Atlanta minus Dorial Green-Beckham who was dismissed earlier in the year.
Missouri had things pretty much in hand until they lost to Big Ten team Indiana, then things nearly went downhill afterwards. After a comeback win at South Carolina, they were embarrassed by Georgia by getting shutout at home. Since the Indiana game, the offense nearly had no spark. Maty Mauk was not as effective under pressure as he was last season.
It was the RB duo of Russell Hansbrough and Marcus Murphy who kept things alive. Sack machines Shane Ray and Markus Golden kept the defense in check since the Georgia loss.
Arkansas came into Faurot Field knocking off LSU and Ole Miss at home. They held Missouri to two field goals in the first half. They had not allowed a single score since the Mississippi State game which spanned 10 quarters. At the beginning of the third quarter, they were up 14-6, but would never score again.
Both teams committed nasty penalties throughout the game. Arkansas got the biggest blunt from it committing 13 penalties for 93 yards. Missouri committed seven penalties for 75 yards.
Brandon Allen was the anchor of the entire Razorback offense throwing for 133 yards and 2 touchdowns. Allen was playing with a soft tissue injury suffered at the hands of Ole Miss last week. Maty Mauk kept things alive with 265 yards and one touchdown. Russell Hansbrough led with 91 yards rushing while Marcus Murphy rushed for 58 yards and one touchdown.
After going up 21-14, Brandon Allen tried to launch a rally. After two straight 5-yard penalties, Shane Ray was flagged 15 yards for roughing Allen. The drive continued for three more plays until Alex Collins rushed for three yards, then Arkansas called timeout. But during the timeout, replay officials showed Collins had fumbled before going down, then Markus Golden recovering. Missouri survived the newly named Battle Lines Rivalry and clinched their second straight trip to Atlanta in the SEC Championship Game to face either Alabama or Mississippi State.
As far as Arkansas is concerned, they finish with a better record at 6-6. Although they weren't able to pull off one more upset, Bret Bielema should be proud. Patience and hard work did pay off for this young group. As far as bowling is concerned, some suggested places would be the Liberty Bowl, Music City Bowl, Birmingham Bowl or the Independence Bowl. They are all good choices, and the Razorbacks deserve it!